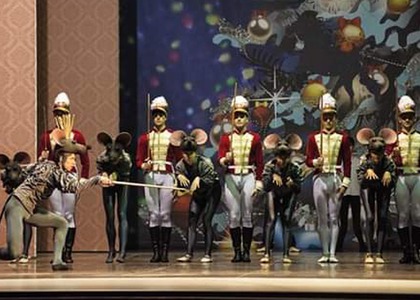 The Premiere of The Nutcracker ballet at the Bucharest National Opera House
Monday, 19 November 2018 , ora 10.23

The Bucharest National Opera House opens the winter holiday season with a new production of The Nutcracker ballet by Pyotr Ilyich Tchaikovsky. As we all know, the story of The Nutcracker takes place on Christmas Eve. It is a story for children, about their fantasy world, with toys, dreams, and magical heroes that come to life. Oleg Danovski was chosen as director and choreographer for this production, which will be based on his father's original production from 1984.

Saturday, November 10th 2018, we watched a classical, faithful production of the story which takes place during Christmas Eve, set in reality as well as in Clara's dream. We watched a fascinating dynamic ballet show full of energy and colour, catering to everyone in the audience, as Oleg Danovski, the son, said:

"I followed the choreography as closely as I could. I am aware that any collaboration with a new production designer brings new, fresh elements, which we hope to combine with the original production. Generally, I think we accomplished that. I worked with great pleasure with this new, young team. This show is for everyone, no matter their age, because each individual can see it differently. I think we managed to offer a wide-ranging show... it isn't solely about ballet, ballet, ballet. Because ballet is performance art, the theatrical is also emphasized here. We also offer real magic. We successfully combined projections with scenic backdrops. So there's a lot to see!"

The Nutcracker, a story gracefully told and brought to life by the young team on stage: Oscar Ward as the Nutcracker, Ada González as Clara, Cristina Dijmaru as the Sugar Plum Fairy, and Ovidiu Matei Iancu as the Prince. The conductor was Iurie Florea. The artists' performance received a standing ovation, which shows that the comeback of The Nutcracker on the most important stage in the country was greatly appreciated by the audience; a warm-hearted, positive audience, where we also found important names of the former generation of dancers, such as ballet dancer Ileana Iliescu:

"A nice show, well performed, but I am wondering what Mr. Danovski's son contributed with, because the choreography belongs to master Danovski, the pas de deux at the end is very classical, traditional...anyway, he was kind enough to bring his father's show to the Bucharest National Opera House. A beautiful show, well performed, costumes, the scenic backdrops...I liked it!"
Written by Jeanine Costache
Translated by Alina-Nicoleta Duminică,
MTTLC 1, Universitatea din București