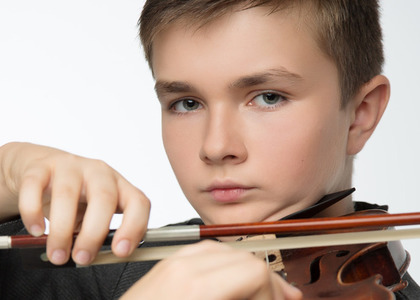 Tuesday evening music session at the Romanian Athenaeum - 13th of November 2018
Wednesday, 21 November 2018 , ora 15.46

Tuesday's session brought the Ukrainian violinist, Vadim Perig, to Bucharest. He has won many international prizes, among which we name the first prize at this year's edition of the "International Anton Rubinstein Competition", at the Junior Section. Vadim Perig is also the winner of the first prize at the International Violin Competition "Cornelia Bronzetti", 2016 edition, which was held at Câmpina. At the suggestion of Cornelia Bronzetti herself, Vadim Perig held his first recital as part of the Tuesday evenings program at the Athenaeum. Accompanied by his compatriot, the pianist Kateryna Ulezko, the 13 year old young violinist has already performed works by Beethoven, Wagner, Wieniawski, Enescu and Saint Saens.
"At his age, at 13 years old, he is remarkable! I am very happy for him! He won the first prize at the Câmpina contest, two years ago, when he was only 11 years old and he really wanted to participate with the B group, a group that is actually for 12 year olds. And, without any special effort, he went home with the gold. Of course, he is uniquely talented when it comes to interpretation, the way he feels the music and the way he can handle the musical instrument."
It was a long and a difficult program for the young violinist. But, at his age, he shows good technique, neat groove and special care for intonation. I appreciate the passion he has for music as well as his courage, because he has played pieces such as "Torso Sonata in A minor" and "Impromptu Concertant" by Enescu.
"I think it's natural for him to interpret pieces from the countries he performs in. I think it's natural for him to play Ukrainian compositions as well, such as the solo Ukrainian piece he played. But we Romanians, we start with Enescu - he's our emblem. And this young musician comprehended Enescu very well - the Sonata and Impromptu Concertant as well. Anyway, the Impromptu Concertant is a little hard to play because of the tonality, maybe he had some mistakes there. But what can we do? These things happen... And I want to say something in defence of violinists performing this piece - it is written with 6 flats! ...rather than dieses, which are more customary for violin players... Violinists are just more optimistic that way."
We had the chance to attend a youthful evening, with the emotions and the mistakes of a debut, taking place on the Small Hall Stage of the Romanian Athenaeum. But Vadim Perig gives hope to the world of violin, having been well received by critics; we will keep the name of this young boy in mind because we will most certainly hear of him in the near future.
Reported by Jeanine Costache
Translated by Gabriela Florea, MTTLC, year I