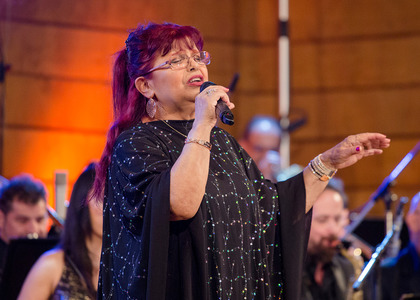 RadiRo- Aura Urziceanu and the Radio Big Band
Monday, 3 December 2018 , ora 14.47

Aura Urziceanu returned home, to the stage of the RadiRo Festival. Headlining the first jazz concert in the history of RadiRo Festival, she received multiple standing ovations from the audience, who enthusiastically applauded every one of Aura's performances.
"It was splendid, such a voice and such sensitivity… these things are rarely found here in Romania!"
"She has a marvellous voice! A voice that is so hard to find!"
"I have relived my childhood! The way the audience received her was also amazing. She was applauded from the very beginning of the concert, and the public connected with her through every sound and breathed in every emotion."
Her unique voice, lauded by critics as one of the most expressive voices out there, showed its power last night, on the 21st of November 2018, in famous songs, such as "Fly Me to the Moon".
The praised singer wanted to make sure that her old friend, composer Horia Moculescu, was present at the concert, so she came closer to the audience and saluted him.
"She sang me a song in '65. She was just a child back then. I have performed with her over 30 times since then."
But what is the thing that makes Aura Urziceanu special?
"Everything! The voice, the imagination, her incredible talent, her perfect musicality… everything!"
Aura Urziceanu invited the pianist and composer Andrei Tudor on stage with her:
"It's a great honour! We reunited on stage after so many years. It's wonderful! The last time I performed with Aura was in 2011, and now I am so glad that I got that chance again. Every single time I am on stage next to Aura it is very emotional…. compared to other artists with whom I worked over the years, it is, without any doubt, a unique experience to work with Aura."
The new section of jazz music is part of the RadiRo festival, organized by Radio Romania.
Georgică Severin, the general director-president of the Romanian Radio Broadcasting Company:
"I think this was the concert of the year. And, of course, we hope that we will be able to create a tradition of jazz, just as The Romanian Radio Broadcasting Company was able to create a tradition of symphonic orchestras at the RadiRo festival."
The second night of jazz at the RadiRo Festival, on 22nd of November, will feature the Croatian Radio and Television Jazz Orchestra at the Auditorium Hall of The National Art Museum of Romania.
Aura Urziceanu's second concert with the Radio Big Band is scheduled for Saturday.
The recording of Aura Urziceanu's concert with the Radio Big Band from November 21st will be broadcast on Radio Romania Muzical on January 2nd, at 19:00 o'clock.
Reported by Francesca Rusu- Radio Romania Cultural
Translated by Gabriela Florea, MTTLC I