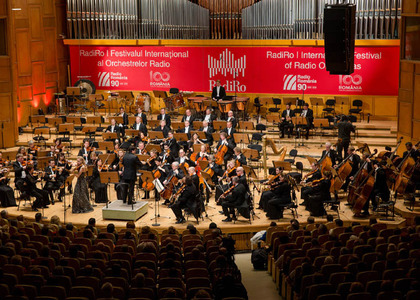 RADIRO Festival - Day 2: The first concert performed by the MDR Leipzig Radio Symphony Orchestra
Tuesday, 4 December 2018 , ora 10.04

The MDR Leipzig Radio Symphony Orchestra performed on the second night of the RadiRo Festival (an international festival dedicated to radio orchestras). At the beginning of the evening, the oldest radio orchestra, MDR Leipzig, conducted by Robert Trevino - one of the most appreciated young conductors of our time, and the music director of the Basque National Orchestra - performed Max Bruch's Violin Concerto No. 1 in G Minor, with the violinist Simone Lamsma as soloist.
Robert Trevino, conductor: "It was amazing! The audience was very warm-hearted, enthusiastic, and reacted wonderfully to the orchestra and the music. I have every reason to be happy. It was a lot of work. We are working all the time and I know Simone very well, she's an internationally renowned violinist, and I am always glad to share the stage with her. There's this communication between us that I find essential."
Renowned for the refinement of her performances and with a repertoire of 60 concertos, this is the Dutch violinist's second performance in Romania. Last year she had her debut in the "George Enescu" Festival, and now she came back to Romania together with the German orchestra and one of her favourite conductors to work with.
Simone Lamsma, violinist: "We worked together and we had plenty of time to explore and study the details of these pieces. I am glad I was able to collaborate with Robert Trevino frequently, especially because he is one of the people I like to work with thanks to his powerful vision, and the fact that he is very open to other people's opinions. It's amazing how we are able to exchange ideas!"
In 2023, the MDR Leipzig Radio Symphony Orchestra will have been active for 100 years. The oldest radio ensemble performing symphonic music, has also had its fair share of drama over the years. Everything the orchestra recorded during the first 20 years of its existence had been destroyed during the Second World War, according to the conductor's speech at the end of their concert, in which they performed Gustav Mahler's Symphony No. 5 in C♯ minor, for which they received enthusiastic applause.
"We are very glad to participate in the RadiRo International Festival in Bucharest. We performed here in 2016 and we wanted to come back because every time we come the audience welcomes us so warmly. We feel just as at home now as we did two years ago."
Written by Francesca Rusu, Radio România Cultural
Translated by Alina-Nicoleta Duminică, MTTLC 1, Universitatea din București