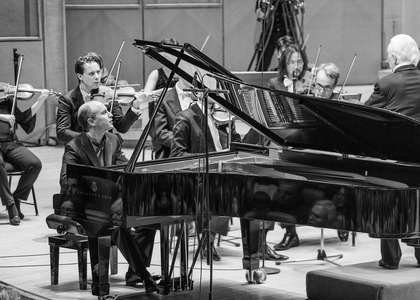 Vladimir Ashkenazy, the Orchestra of Italian Switzerland, and Nelson Goerner, at Sala Radio, in the penultimate day of the RadiRo Festival
Monday, 10 December 2018 , ora 9.40

In the penultimate day of the RadiRo Festival, the Orchestra of Italian Switzerland, conducted by maestro Vladimir Askhenazy, performed a concert at Sala Radio. The first work played by the ensemble was the Overture to the Marriage of Figaro, by Wolfgang Amadeus Mozart. The evening's soloist, pianist Nelson Goerner, also tackled, accompanied by the Orchestra of Italian Switzerland, the Concerto No. 24 in C Minor, K. 491, for Piano and Orchestra, by Wolfgang Amadeus Mozart, in a stylistically unique version. The last piece in the evening's program, Jean Sibelius' Peléas and Mélisande, was appreciated for the orchestra's large, dynamic palette, and the conductor's formal planning.
A few echoes from the audience:
"The concert was great! What a special evening! The conductor, the orchestra - everything was wonderful!"
"Very emotional, very pleasant. It touched our hearts! That's about it."
"The Marriage of Figaro - an extraordinary balanced overture, best accentuated when performed in this hall, more than any other. Beautiful sonority and piano… very good."
"I was very glad to be able to come tonight. It was a very pleasant surprise. Actually, I knew both the conductor and the pianist."
It is obvious that the audience has great admiration both for maestro Vladimir Ashkenazy and for the Orchestra of Italian Switzerland and pianist Nelson Goerner, seeing as the Sala Radio concert was a great success.
The RadiRo Festival ends today, 25 November, with a concert at Sala Radio performed by violinist Ray Chen, together with the RTÉ National Symphony Orchestra of Ireland.
Reported by Petre Fugaciu
Translated by Mădălina Grosoiu, MTTLC I