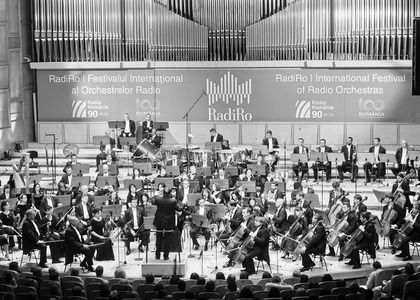 RadiRo Festival – Day 4. National Radio Orchestra and David Fray under the baton of Frederic Chaslin
Tuesday, 29 January 2019 , ora 10.29

Last night, at Sala Radio, a concert was held on the fourth day of RadiRo Festival. Along with French musicians, the National Radio Orchestra presented a romantic programme. Under the baton of conductor Frédéric Chaslin, the Overture-Fantasy Romeo and Juliet by Piotr Ilici Ceaikovski opened the evening programme and the first part ended with the Concerto for Piano and Orchestra in A Minor by Robert Schumann, whose frontman was the pianist David Fray. The musician gripped the audience by the equilibrium of his performance, as expressed by the audience's reactions:
΄It was a great performance. This is the first time I see him in concert. I think he is a very talented pianist.'
΄Yes, I liked the concert. It was nice, well done. They really sounded good together.΄
΄Ceaikovski's overture was very beautiful and the Overture-Fantasy Romeo and Juliet impressed us with its resonant magnificence. This was followed by the Concerto for Piano and Orchestra by Robert Schumann, and David Fray, a young and elegant pianist, is very well-balanced. His interpretation was a bit unusual.'
The second part of the evening was dedicated to the symphonic suite Scheherazade, by Nikolai Rimski-Korsakov, whose features were highlighted in the brilliant performance, as Dumitru Avakian, musical critic, noted:
΄It's a joy to see that the National Radio Orchestra lives up to the level of the great European ensembles. This is evident from their interpretation of the pieces, as is the case with the Scheherazade suite by Rimski-Korsakov.΄
The next concert, part of the festival, takes place on the 22th of November at Radio Hall, featuring cellist Andrei Ioniță and the BBC Philharmonic Orchestra.
Reported by Petre Fugaciu
Translated by Nițu Diana-Alexandra,
MTTLC 2, University of Bucharest