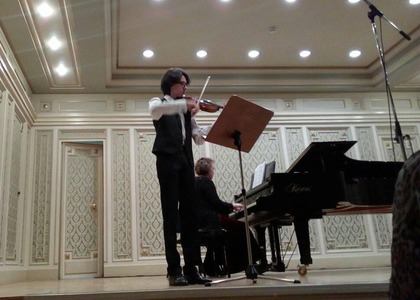 Tuesday Evening Classical Music Season at the Romanian Athenaeum - 29th of January, 2019
Monday, 11 February 2019 , ora 13.33

Violinist Ștefan Aprodu performed four sonatas by Mozart, Beethoven and Jean Marie Leclair in a sonata recital. The young musician filled the Athenaeum's small concert hall and his progress caught music enthusiasts' attention, as well as musicologists' such as Cornelia Bronzetti, who discovered him at the Câmpina International Violin Contest:
"Of course, he is still growing and learning. It is obvious that his performance was great and well structured, but it can still use some improvement. He's in ninth grade, but 15 is also the entry age for adult competitions. Slowly but surely, he will continue nurturing his talent because he is a very gifted violinist who is also madly in love with music and his violin. One day, he will be able to perform repertoires of greater depth and difficulty,"
Ștefan Aprodu is one of the five Romanian musicians nominated by Radio România Muzical for the Concertino Praga Competition 2019. His success is not only based on sheer talent; behind his success are a lot of hours of practice and work, and according to him, the violin is his first priority:
"Violin means everything to me. If I had to live my life without it and choose another profession, I don't think I could. What is amazing about it is that the violin chose me. I wanted to play the violin ever since I was little, but I used to be really horrible at it. I couldn't even hold my hand properly, it was so uptight, but Mrs. Magdalena Ursu guided me and put me on the right path."
Violinist Ștefan Aprodu performed with a lot of passion, attentively accompanied by pianist Olga Babadjan. The two musicians confidently built a musical journey filled with artistic sense and virtuosity. Magdalena Ursu, who teaches Aprodu at the Dinu Lipatti Music High School, is very satisfied with the young violinist's musical evolution:
"This young man learns something new with every year; he adds to his technique and musical knowledge. He is always searching for more and feeling a lot. He also started writing music, he wants to play the piano, he wants it all and let's hope that it's all for the best. To perform four sonatas in a recital at only 15 is exhausting, but he did an amazing job.
Written by Jeanine Costache
Translated by Alexandra Simona Ivan,
MTTLC, 1st year, University of Bucharest