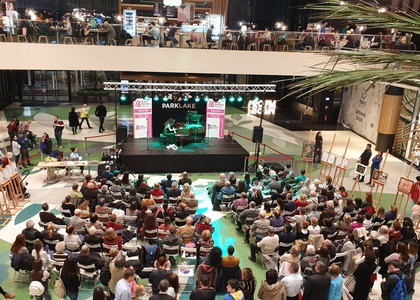 Romantic Mărțișor at ParkLake
Thursday, 1 August 2019 , ora 10.47

On the first day of spring - which happens to be Frederic Chopin's birthday - Radio România Muzical organized a recital performed by pianist Sînziana Mircea, hosted by the ParkLake Shopping Centre.
Romanticism remains one of the universal musical reference points, and Frédéric Chopin's creation is a representative example of this kind of music. Thus, the idea of a recital celebrating the birthday of the Polish composer and the beginning of spring can be explained both through the accessibility of the program and its popularity. On the stage placed in the Main Square at ParkLake, the young pianist Sînziana Mircea delighted the public with waltzes and nocturnes by Frédéric Chopin, grabbing the attention of even the most hastened passers-by.
Beside the musical aspect of the first of March evening, the audience could enjoy some artwork by the students of the Nicolae Tonitza School for Fine Arts in Bucharest, inspired by the music of Frédéric Chopin. The students listened to these works - performed by Sînziana Mircea on the ParkLake stage - as part of the project 5 Minutes of Classical Music in unconventional places and schools, organized by our radio station. The works complemented the event's ambiance, just as Sînziana Mircea described it:
'That was a recital made up entirely of Chopin, but we wanted to show you different sides of Chopin. We started with four waltzes dating from different periods - The Grande valse brillante, Op.18, from his early days and Waltzes op.64, more mature and maybe more philosophical, then two nocturnes, because Chopin was very expansive, but also melancholic. In the end, we had Andante spianato et grande polonaise brilliante, one of my favourite works in his entire repertory, full of energy as well and... from my point of view, a very beautiful work for the start of spring.'
At the end of the recital, the pianist gave autographs to an excited audience:
'It's very beautiful! We've come on purpose from Cosmopolis because my husband heard about it on the radio. We've also brought our kids. We really like it. Unfortunately, the youngest girl isn't too interested in it, but the oldest listens to it and seems excited. This is an excellent initiative.'
'The initiative is very good because it allows those who aren't fond of classical music to see what it's all about. I highly appreciate the fact they brought Sînziana Mircea here.'
'Great idea. It seems that it brings something new into the malls. This really grips the audience and brings a bit of culture.'
The next event organized by Radio România Muzical on the stage of ParkLake will take place on the 24th of March, on the occasion of Classical Music Day. The concert will be held by cellist Alexandru Tomescu and the Radio Children's Choir, under the baton of Răzvan Rădos.
Reported by Petre Fugaciu
Translated by Nițu Diana-Alexandra,
MTTLC, 2nd year, University of Bucharest