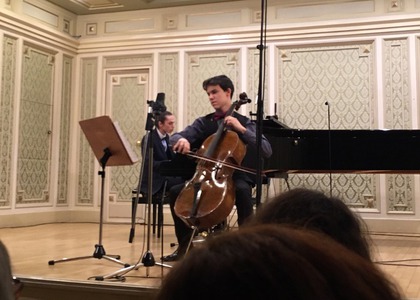 The Tuesday Evening Season at the Romanian Athenaeum - February 26, 2019
Thursday, 1 August 2019 , ora 11.00

"I witnessed a wonderful concert! Two teenagers playing like two young gods. Despite their youthful physique, they look like real musicians, musicians with a mind of their own, and familiarity - familiarity with their instrument and with music. They presented to us the most beautiful examples of style, executed in style. It was a lovely night!" (Lavinia Coman)
The young musicians who impressed Lavinia Coman, an appreciated musicologist and teacher, are only 17 years old. On February 26, cellist Valentin Simion and pianist Robert Creimerman filled the Small Hall of the Romanian Athenaeum with their youth, marking one of the most appreciated Tuesday evening concerts, as stated by critic Dumitru Avachian:
"It is so satisfying to see that two students of the "George Enescu" National College are capable of performing as what you could call a chamber duo at an absolutely remarkable level. I think that out of the latest seasons, this is one of the most important chamber ensembles; it is about setting the standards that much higher. In my opinion, it brings the most satisfaction both to the public and the musicians themselves."
Valentin Simion and Robert Creimerman have been creating music together since 2017, and the awards soon followed, rewarding their constant and passionate studies. They won the first prize at the national contests "Dan Cumpătă" and "Ada Ulubeanu", and abroad they won the International contest "The Muse" in Athens. At the end of the evening, they spoke excitedly about the joy of creating music:
"I asked him to play together and he agreed. He chose a piece - Mendelssohn's Sonata No. 2."
"This is the piece that brought us together. It is somehow the soul of our ensemble. Chamber room music allows for certain finesse… it's poetry, a concentration of extraordinary music, which can't be found in any other form of musical performance."
"For me chamber music represents one of the most important aspects of music because, from my point of view, one of the essential mottos of music is together. And performing together is completely different from playing alone because it requires more attention and it goes much more into detail."
I must tell you that the Romanian Athenaeum's Small Hall was swarming with people who came to watch the performance of these two young artists, who presented a daring program that included works by Beethoven and Mendelssohn. This was their first appearance on a concert stage, in this formation and it was given much attention and praise by many specialists, like piano player Cristian Beldi:
"I was pleasantly impressed by these young musicians who had an extraordinarily complex and difficult program to perform, especially without any breaks. I think it is incredible that they did it. And they proved that they have an artistic maturity for their age… I wish them a lot of luck from now on! I'm glad that I was here."
Just as excited by their performance was also piano player Verona Maier, who gives hope for cello player Valentin Simion and piano player Robert Creimerman becoming the leaders of the next musical generation:
"I think the hall was full, I found the program insanely brave for two people who are so young. They confronted two masterpieces and two works that even well-established musicians avoid approaching. Meeting those chamber music titans for this chamber ensemble was - or at least they made the impression that it was - effortless, not at all a challenge beyond their current abilities."
Reported by Jeanine Costache
Translated by Gheorghe Roxana Cristina,
MTTLC, 2nd Year, University of Bucharest