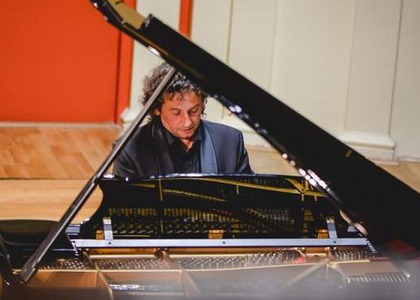 Radio Romania – the 91st anniversary
Monday, 11 November 2019 , ora 9.02

On the 1st of November 1928 was the first time Romanian radio programs were broadcast. This year, the first Radio Romania transmissions were celebrated with a concerto performed by the National Radio Orchestra.
A well-prepared orchestra, a dedicated soloist and a skillful conductor - all the right ingredients for a successful concerto. The public enjoyed this on Friday the 1st of November, at the concert held in honor of the Radio Romania Anniversary. The event marked 91 years from the first Romanian radio transmission with an outstanding performance. The first piece of the evening was Filip Lazăr's "The Ring", written in 1928. Stylistic influences from composers such as Sergei Prokofiev or Igor Stravinski, as well as an avant-garde personal touch, can be seen throughout the piece.
However, the most appreciated piece of the night was Sergei Rachmaninoff's Piano Concerto No.2, a composition for piano and orchestra, whose soloist was Horia Mihail. The pianist did justice to a concert loved by the people and managed to impress them with his performance.
"The piece is extraordinary, and Horia Mihail lived up to his name and offered us a very beautiful, might I add, spectacular performance"
"It is remarkable. I felt overjoyed and serene. Music heals, music lifts your spirit. I greatly appreciate Horia Mihail and it is generally a pleasure for me to attend all the concerts at Radio Hall. I am happy to be able to come here every week and enjoy the music."
"It was a successful combination. Horia granted us an exquisite concerto and Saint-Saëns' Symphony No.3 with the organ played during the second part complemented it beautifully, something that can only make the radio station proud. The conductor, Cristian Oroșanu, whom we already know, directed the orchestra smoothly and I could not be more delighted."
"The concerto was truly beautiful. We come here almost every Friday for the concerto, celebrating the anniversary of the Radio. The pianist and the conductor did a beautiful job indeed."
"I am really happy with the music. I enjoyed it very much."
After the break, we listened to Saint-Saëns' Symphony No.3 with the organ, a piece that brought Cristian Oroșanu's interpretative abilities to the forefront. With his choice of phrases and tempos, the conductor successfully led the audience through animposing journey of sounds - something that made the night an utter success.
Reportage by Petre Fugaciu
Translated by Zamfir Lavinia Corina, Universitatea București,
Facultatea de Limbi și Literaturi Străine, MTTLC, anul I