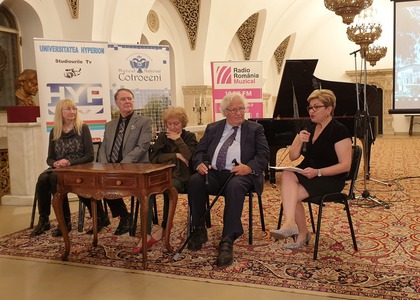 In memory of Constantin Silvestri at the Cotroceni Palace
Monday, 11 November 2019 , ora 10.18

"The Silvestri Phenomenon" - under this name the personality of the conductor and composer Constantin Silvestri was commemorated at King's College Chapel in London, on Saturday, the second of November, with the passing of 50 years since his disappearance. Liliana Staicu, Director of the Radio Orchestras and Choirs, Lord Michael Berkeley, composer and BBC Radio 3 producer, instrumentalists that performed under the guidance of Silvestri in Bournemouth, Nicholas Braithwaite - his associate conductor, piano player Anda Anastasescu, President of the Constantin Silvestri International Foundation, Glen Gould from the United States of America, the engineer who restored the Romanian conductor's recordings and Bunny Laden, the producer of the film "Metamorphosis - The transformation of the Bournemouth Symphony".
Most of them were also present on Wednesday, the sixth of November, in the Cerchez Hall of the Cotroceni National Museum in Bucharest, where the Romanian version of this laudatio opened by Liliana Staicu, the host of the event, took place, presenting data regarding the Romanian artist's character, followed by piano player Anda Anastescu's recital, who played Suites op.3 no. 1 and 2 "Children at play" and Suite op.6 no.1 by Silvestri - completely immersed in rendering the essence of this music.
The piano player gently caresses the keyboard with tender and dedicated gestures. One can easily notice the music talking to her, elegantly filtering ancestral essences, through impressionistic or avant-garde notes. In the musical discourse there are also playfulness, irony, volutes resembling Stravinski's - perhaps an autochthonous Petrușca, images and expressions galore, that acquire bleak tones with Suite op.6 no.1, bizarre, compulsive, avant la lettre. Anda Anastasescu declared: "Silvestri has become our hero." at the round table that followed.
*
During 30 years, I brought Silvestri multiple times to Romania but this time I had the fortune of being able to invite these absolutely special guests, such as Nicholas Braithwaite, that was Silvestri's assistant as a conductor and that is 80 years old now and came for one day and one night to speak of Silvestri as he knew him, face to face, to the Romanian public; and the two Americans from Silicon Valley, that worked for Google, but at the time work for the memory of Silvestri. And Glen Gould did a lot, due to him being a sound engineer, and he restored multiple CDs containing Silvestri's performances in Great Britain. Furthermore, his wife, Bunny Laden, that created Metamorphosis, this magnificent film...and for things of this kind and for the film with Silvestri conducting his first song, Prelude and Escape, included, that is nowhere to be found in Romania, which I brought because it is sensational, as a piano player I wanted to prove Silvestri's evolution as a composer between Suites First and Third. At 20, he was already opening some harmonic horizons, characterised by imagination, courage, a different style of writing songs. I am very pleased and very grateful to Mrs. Liliana Staicu and to Romania Musical Radio for their agreement to re-enact our London event.
*
Of extreme interest and eloquence was conductor Nicholas Braithwaite's statement, who was Silvestri's assistant for two years, between 1967 - 1969. What he declared following the event:
"When I went to Bournemouth for the first time, in 1967, he was already sick, I assume, but we knew nothing about it. I followed him how he was working for two years, he was a magician and he had managed to obtain a certain level of devotion from his instrumentalists that I have seen nowhere else, due to the fact that he was offering them the gift of creating music in a marvellous way. They were talented musicians, but they had not had the opportunity to give everything, all that was best in them by that time. If you listen to the recordings that are currently available on Youtube, you will understand what I mean - they are extraordinarily skilled in "Șeherezada", in "In the South", in "The Italian Whim", that is an incredible example of absolute vulgarity, made with perfect good taste. Silvestri was also a gentleman when he worked with them, to fear, but extremely polite. A great man. And it is a pity - he was only 57 when he passed away. Had he lived for another 30 years, he would have become one of the great names." (conductor Nicholas Braithwaite)
In other words, those who were privileged to participate in this Silvestri tribute event last night had the opportunity to uncover unknown details from the years during which the conductor had conducted the Bournemouth Symphonic Orchestra, how he had turned it from a provincial ensemble in one of the most important British orchestras, his way of working, the fact that there is a book, perhaps the most extensive biography - "A musician before his time", written by journalist John Gritten, untranslated yet, or the manner in which Ray Carpenter, a clarinet player from the Bournemouth Symphonic Orchestra, saved the entirety of his concerts' recordings broadcasted by BBC from destruction and contacted Glen Gould, an American sound engineer, who restores them and created a Youtube channel where they can be listened to. The event had the projection of a fragment from the documentary "Metamorphosis - The transformation of the Bournemouth Symphony" as a closer, created by Bunny Laden from the United States of America. A few sentences remained in everyone's memory: "he was a genius...Silvestri's story is so amazing that it needs to be known".
"I am nervous because I got the era with Silvestri and George Georgescu, I even saw The Oedipus from the first Enescu festival, which I will never forget. Tonight, I was so nervous...I do not know if the public sensed at one point, the moment Enescu was sung, it seemed I had never heard his songs be so beautifully played before...it was as if the audience was lost for words. Thank you, Romania Musical Radio, for this evening! It was unbelievable! - Rodica Boconcios"
"I found it a wonderful thing, as an initiative in the first place, as a project that has been made. I reckon Silvestri is not so well-known, and those who shook hands to bring back such a "beautiful, unitary, extraordinary experience that this orchestra had with this man, beyond his value as a conductor in general - the fact that he could turn this no-name orchestra into one with such dedicated musicians - it was an especially beautiful intertwine between music, speech and image. I mean, it was a great achievement even in terms of the conception of the show. - Smaranda Elian, teacher"
Report by Marina Nedelcu
Translated by Drangoi Ioana Alexandra, Universitatea București,
Facultatea de Limbi și Literaturi Străine, MTTLC, anul I