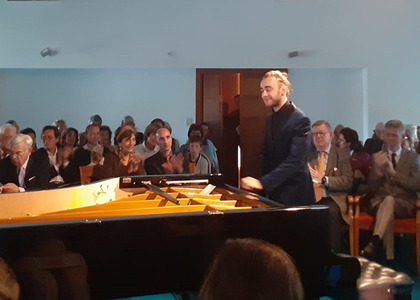 EUROPALIA Romania. The pianist Daniel Ciobanu - three days, three countries, three recitals
Thursday, 14 November 2019 , ora 15.04

Musician Daniel Ciobanu closed the EUROPALIA series of recitals on Sunday, November 10th2019, in Genappe, Belgium, in the Bruegel Hall of Golf Club d'Hulencourt. He represented Romania in three countries, Great Britain, Netherlands and Belgium through an artistic power tour appreciated by a numerous audience.
Therefore, the first recital took place in Saint James' Church Paddington, in London, on November 7th, followed by a latter in NieuweKerk, in Hague, on November 8th.
Born in Piatra-Neamt, the piano player, who at the moment lives in Berlin, is an alumnus of the Royal Conservatoire of Scotland and laurate of several prestigious competitions. He won the most important international recognition in 2017, at the Arthur Rubinstein competition in Tel Aviv, where he received both the Second Prize - Silver Medal, as well as the Audience Award and in Romania he participated within the "George Enescu" festival. Spoiled by audiences everywhere, the artist describes his music as "a cocktail of classical music as serious as it can be, combined with the musical garlands and artifice of the piano's repertoire."
During his three EUROPALIA recitals, the pianist interpreted a varied repertoire that included songs written by Olivier Messiaen, Frédéric Chopin, ArvoPärt, Serghei Prokofiev, Frederic Rzewski and George Enescu. "I am delighted with my EUROPALIA recitals. I am pleased that I have become an ambassador for the young generation of Romanian artists that represent Romania abroad", said Daniel Ciobanu at the end of the three recitals. Romania's participation in EUROPALIA is coordinated by the Romanian Cultural Institute.
"The first part of the program focused on the interior-spiritual and mystical areas of our existence, a part that we ignore in favour of materialism. I walked a path with allusions to Divinity (Messiaen - Regard du Pere) and to existentialist questions (Fr. Chopin - Sonnet no.2). The separation of a mother from her offspring cannot be more painfully reflected than in Für Alina by ArvoPärt", the piano player confessed.
During the second half of the program the serious register was changed through a new cadence and dynamism of the sound. "After the break, our starting point in the program consisted of the collateral damage done to the human being as a consequence of Agricultural Revolution and Industrialization. We remembered the textiles factories and the slavery found in Rzewski's Cotton Mill Blues and Prokofiev's War Sonatas. Beyond the social and political context found during several time periods, we did not omit the horizon of hope and the connection with Divinity, through Enescu's Carillon Nocturne. Therefore, on Sunday we remembered the church bells through the means of sounds with similar resonances, even though we were in the hall of a golf club", Daniel Ciobanu concluded.

Translated by Drangoi Ioana – Alexandra, Universitatea din București,
Facultatea de Limbi și Literaturi Strãine, MTTLC, anul I