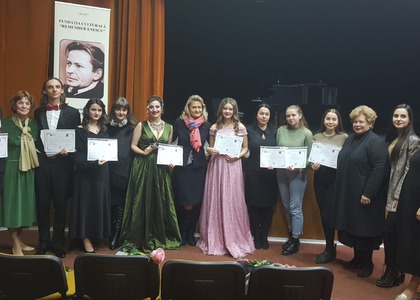 The singing contest 'Remember Enescu'
Monday, 18 November 2019 , ora 10.03

The Cultural Foundation "Remember Enescu"celebrates 20 years of existence in 2019. To mark this anniversary, a new category intended for young singers was added to the singing contest "Remember Enescu", which was traditionally entirely dedicated to violinists. The contestants from Ploiești, Cluj, Bucharest and Chișinău performed for the jury consisting of sopranos Iulia Isaev, Doina Dimitriu, Daniela Chihaia Popa and mezzosoprano Cristina Șoreanu, at the AurelStroe Cultural Center in Bușteni, on November 6 and 7.
Iulia Isaev, soloist of the Bucharest National Opera House and professor of National University of Music Bucharest, gave us more details regarding the level of the contestants:
"There was actually a very high level among the contestants, an unexpected one I dare say. They offered a great performance."
From your perspective, considering the wonderful career that you embraced, what do you think these young contestants need in order to reach their full vocal potential and maybe even achieve an international career?
"Commitment, perseverance, courage, faith and last, but not least, a great deal of effort."
And since the level of the contest was such a high one, the jury decided that the Main Prize will be shared by two contestants: soprano Cristina Fieraru, a student of National University of Music Bucharest:
"Winning the Main Prize of this contest, with two stages and required music compositions, is truly a great joy for me. I have to say, Enescu`slieds have really been a challenge for me. This was another opportunity for me to sing opera, something that I want to do as much as I can, but this time I performed in front of professionals, which is really important."
… and countertenor Alexandru Costea, a high school senior at George Enescu National College of Music:
"For me, this prize represents the acknowledgement of all the hard work I have put into this, alongside the efforts of my singing teacher."
The singing contest "Remember Enescu" was hosted by Aurel Stroe Cultural Center, managed by director Constantin Spurcaciu:
"We have been hosting "George Enescu"Musical Season - a yearlong musical season-for 12 years. We started it as a collaboration with George Enescu National Museum, which lasted for the first four years. After that, we began managing the season all on our own and we had great results. There is a friendly relationship between our institution and the "Remember Enescu" Foundation, which has formed in the last years and became more solid through a series of activities taking place here. A few times a year there are young violinists, pianists, singers that perform here, at the cultural center, and the audience, consisting of residents from Bușteni or tourists, always comes to see them. This year, here we are at the "Remember Enescu"National Contest - the singing category, an event that we successfully organized through a common effort. This is a very important occasion for us; it makes us feel much honored and I am sure that it will become one of the traditional events here, in Bușteni."
Mrs. MihaelaTomescu, the president of "Remember Enescu" Cultural Foundation, has expressed a conclusion after the event:
"What we wanted to do is highlighting Enescu`s creation in yet another manner. The contest is proving to be a difficult one, with the two stages and the 5 or 6 composition required by the program."
And since we know that the Cultural Foundation "Remember Enescu" is a really active organization, could you please tell us the next event you have in plan?
"Apart from our season which includes weekly recitals in Bucharest and other cities, we organize the "Dan Cumpătă"Contest-an important event for us, on December 14 and 15, but also an anniversary concert! Our foundation is turning 20 this year so we will celebrate it together- former and current members, professors- with a concert of violinist Alexandru Tomescu, the initiator of the event, at Odeon Theater on December 19."
Reportage by Monica Isăcescu
Translated by Iuliana Popa, Universitatea București,
Facultatea de Limbi și Literaturi Străine, MTTLC, anul I