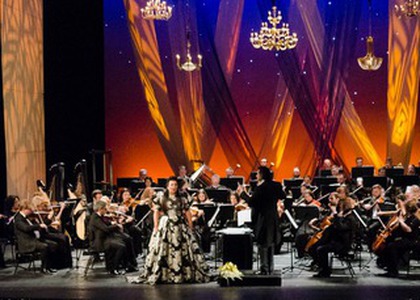 Extraordinary concert by Maria Guleghina – a jewel to be admired only in its box!
Wednesday, 12 February 2020 , ora 11.45

Certainly, the soprano born in Odessa, in 1959, will always be a collection voice, a mark of the 20th century female vocal range. Few singers have been and are capable of reaching performances of such notoriety in the lyrical, lyrico-spinto and dramatic repertoire, on almost all the great stages in the world. Therefore, on February 8th, 2020, opera lovers entered the National Opera hall with great expectations, especially because the programme promised a royal, formed of 9 long and difficult arias, starting with A Masked Ball, then on to: Nabucco, Macbeth (two), Gioconda, Adriana Lecouvreur, Manon Lescaut, Tosca and Andrea Chenier. Who has ever encountered such strength and dedication, in singing so much and exhausting oneself, with only 5 days before the premiere of Turandot, in which Maria Guleghina plays the main role?
As I was saying, the difficulties in the first aria were due to the voice not being previously warmed up, and so we waited, especially because the stormed "cannon" of such voice seemed to need time to become more fluid. And there cameBen io t'inveni/ salgo gia fromNabuccoand Nel di della vittoria/Una macchia from Macbeth.A diamond voice, with a radiant glow, piercing through to the flesh, but with plenty of "shadow spots" as well: knife-edge intonations, broken, swallowed or glassy high notes, the low register- either colourless or too heavy on the chest, unstable lines, sudden movements from one undertone to another, an almost stammering diction. It is painful to find this phenomenal soprano no longer sings now, at over 60 years of age, like she did 10 or 20 years ago, when Maria Guleghina would surprise the audience with a high ethereal sound, imperceptibly diminished, with a soothing legato or a shuddering dramatic recitative. The second part of the concert went along the same lines, it was dedicated to verism, a temperamental "whirl" with infinite expressions of light and shadow. An intense voice, a carat-imbued gem, on which time has already started to leave its mark. Nevertheless, the prize of the night was meeting an exceptional international artist, whom we would have love to have as a guest, several years ago. Therefore, a jewel to be admired only in its box!
Because Maria Guleghina has polarised the general interest, I will only remind you that the National Orchestra and Choir have been conducted by the Italian Alberto Veronesiand there have been episodical interventions of: Antoanela Bârnat, Marius Boloș and Adrian Ionescu.
Photo: Sebastian Bucur / National Opera of Bucharest
Luminita Constantinescu
Translated by Eleonora Manea, Universitatea București,
Facultatea de Limbi și Literaturi Străine, MTTLC, anul I