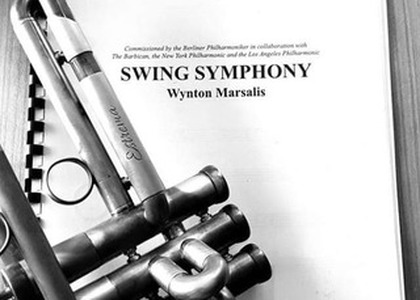 Big Band of Radio Romania, the guest of the Borusan Philharmonic Orchestra in Istanbul - an exceptional concert
Monday, 17 February 2020 , ora 11.10

The concert of the Borusan Philharmonic Orchestra from Istanbul, on Thursday, February 13th, 2020, had as a special guest the Radio Romania Big Band in a programme whose highlight was the premiere in Istanbul of the Symphony III, Swing Symphony, written by the famous jazzman Wynton Marsalis - a seven-part work, composed in 2010, at the request of four of the world's most important symphony ensembles: the Berlin, New York, Los Angeles Philharmonicsand the London Symphony Orchestra, whose themes are of deep American inspiration, reminiscent of the music of Charles Ives, Gershwin, Bernstein or Copland.
Spectacular due to the amplitude of the sounds, but also introspective, stylistically combining different rhythms, the Swing Symphony rang in the concert hall of the Borusan Philharmonic in an exceptional version proposed by the charismatic Austrian conductor Sascha Goetzel ... and, with a jazz ensemble, which wasin the centre of the whole sound construction, and which has demonstrated more than ever the talent, the stylistic valences and the artistic potential.Prepared by conductor Ionel Tudor, the Big Band Radio received a standing-ovation for minutes on from the audience, and even from the stage colleagues, members of the Borusan Philharmonic. Their exceptional artistic presence, the solos applauded on the open stage, especially the way they were integrated into a symphonic ensemble that, in turn, exceeded the stylistic barriers with great success managing to get out of the specific rigor of the symphonic parties - all of these made the evening of February 13th become one of those exceptional artistic moments that you will remember over the years.
A concert whose first part I must also speak to you about, as I had the opportunity to listen live, for the first time, to one of the musicians I particularly appreciate - the clarinettist Andreas Ottensamer, who, besides the first position clarinettist of the famous Berlin Philharmonic Orchestra, he has also built an exceptional solo career.His remarkable artistic collaboration with conductor Sascha Goetzel, the artistic director of Borusan Philharmonic, made him return to Istanbul as soloist of this ensemble, this time in Concert no. 1 by Weber, a score that interweaves virtuosity with the magnificent cantilian of the middle part.By listening to Andreas Ottensamer, you once again understand how close this instrument is to the valences of the human voice, how much expressivenessand warmthit can release.
It was an exceptional musical evening, applauded by the nearly two thousand spectators who filled the room to the brim, an evening whose star was undoubtedly the Big Band of Radio Romania.
Liliana Staicu
Translated by Ioana Ghiță, Universitatea București,
Facultatea de Limbi și Literaturi Străine, MTTLC, anul II