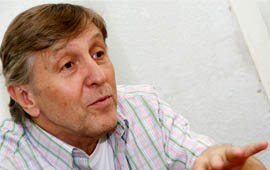 Andrei Serban - My travels - Theatre and Opera
Friday, 3 October 2008 , ora 12.28

On November 3rd 2008 the "Carturesti" bookstore proved too small, for the two photo albums launch. The two complementary volumes, entitled My travels - Theatre and Opera comprise images of all the theatrical and lyrical productions of renowned director Andrei Serban. Black and white or even coloured, the photos open doors to a fascinating world, full of expression and motion.

Along with the author, those invited to deliver a speech at this cultural event, were Horia Roman Patapievici, the president of the Romanian Cultural Institute, theatre critic George Banu and Corina Suteu, the director of the New YorkRomanian Cultural Institute.

Horia Roman Patapievici praised the volumes and announced that they are the first in a series which is meant to promote great Romanian artists. In the near future, an album with representative images of Liviu Ciulei's career is to be edited.

"A true book"- this is how George Banu, the author of the preface, characterized the photo album. The purpose was to immortalize theatre - in other words, the ephemeral - and make it defeat time. This is why the expressive criterion and not necessarily the aesthetic one - was important in the selection of the photographs.

Last, but not least was the speech of Andrei Serban. The maestro talked about the way the idea of creating a biography in pictures was suggested to him and described the winding path of the project since its initial phase to the actual event. At the end, he thanked those who helped him with the two volumes, he gave autographs to the public, but also a short interview exclusively for Radio Romania Music.

What was the context in which you approached the opera, given the fact that you graduated from the Faculty of Theatre Staging?

One day, I was called into the world of opera, as it happens with many theatre directors nowadays. It is something frequent. I figured out that in fact, the opera is a sort of complete theatre, the moment when the marriage between theatre and music results in the most wonderful show in the world.

Which production represents you mostly, in which production you were involved the most from an affective point of view?

The show I'm working at is one I am involved into the most. Sentimentally speaking, of course, Chekhov's shows are the most powerful.

During your career you have collaborated with several representatives of the younger generations. To what extent has this affected you?

At Columbia University in New York, where I work with many young people, I experience a great joy, because they are brave and have no sort of prejudice, are ready to take the risk, are always curious and have lots of questions, and this is something which gives me much health and oxygen.
Petra Gherasim
Translated by Alina-Olimpia Miron
MA student, MTTLC, Bucharest University