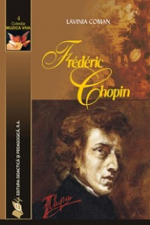 Lavinia Coman speaks about her book Frédéric Chopin
Wednesday, 3 February 2010 , ora 12.26

From now on, 'Chopin music lovers can enjoy a new perspective on the life and works of "The Poet of the Piano". Lavinia Coman has launched her book entitled Frédéric Chopin at the "Gaudeamus" International Book and Education Fair. The author has given us an interview on the subject. Find out next who the target readers of this volume are and what kind of famous people influenced the 'life and works of the great composer.


What is the target readership of the book Frédéric Chopin launched at the "Gaudeamus" International Book and Education Fair?

The book addresses a large number of readers, from music amateurs to young students and pupils. It is an interesting reading for professional musicians as well.


Can we refer to Chopin as a child prodigy, comparing him to Mozart?

Yes, we can, by keeping in mind the characteristics of the period, the necessary proportions, and the portrait that defines both of these two great names in the musical creation of all times.


Was George Sand an angel or a demon for Chopin?

She was both. George Sand had a very interesting, composite personality, extremely spectacular and very powerful. She was often present on 'the French cultural and social scene of the time. Moreover, her personality had a strong imprint on Chopin's life during their eight-year relationship. Their connection lasted until he passed away. She was both an angel and a demon. Nonetheless, she was a good influence on Chopin's creativity, a support for his musical activity. She was a muse, an example, a mother, a sister. She was his confident, and during the first part of their relationship, she was his lover and Chopin's only successful attempt to live as if he were married.
Alexandra Cebuc
Translated by Laura-Cristina Badea
MA Student, MTTLC, Bucharest University