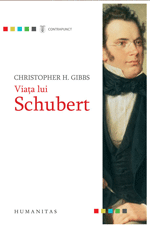 The Life of Schubert by Christopher Howard Gibbs
Monday, 21 November 2011 , ora 12.21

The Life of
Schubert
by Christopher Howard Gibbs is one of the new books included in the collection launched by the Humanitas Publishing House and dedicated to music education, entitled
Contrapunct
. Off the record, we are glad that Humanitas has come up with the idea of launching such a collection because by simply reading this collection people gain access to books about music, written especially for common readers, and not for specialists.

New biographical elements
Christopher Howard Gibbs is a professor of music at the Bard College of Music in New York. Throughout his career, he has expressed a constant interest in the life and work of Franz Schubert, either by teaching music or by organising music events dedicated to Schubert, such as the Schubertiade in New York.
Gibbs's book about Schubert was published by the Cambridge University Press in 2000, and, as odd as it may seem given that we are talking about a composer who died 200 years ago, the book inovates by presenting Franz Schubert's biography in a more balanced manner.
I have to admit that apart from the vast Grove Dictionary of Music and Musicians I have not read any other recent books about Schubert - the Romanian books about him are more than 50 years old. Therefore, I read Gibbs's book with the hunger for knowledge of a common music lover.
Gibbs's description of Schubert is well-balanced and based on well-thumbed chronicles. The author does not venture to make assertions which he cannot support, for instance about Schubert's homosexual orientation, which is a highly controversial topic.
We could say that Schubert's destiny and the way his descendants have perceived him are very similar to those of Mihai Eminescu: two extremely gifted artists who passed away at a tender age, endowed with an amazing creativity, who did not know how to manage their own money, and therefore were always in a precarious financial situation which, however, could not be imputed to those around them but to the artists themselves.

Schubert's music - both sorrow and delight
Biographers have always tended to portray Schubert's life in gloomy colours, "not simply suffering, but alienated, ill, and isolated even among family and friends. We may never know any more about Schubert than we know now, and we only can marvel at how Schubert and his music have generated so many interpretations and accommodated such a variety of appropriations over time (...) Instead of regretting that we know so little and therefore have invented so much, we might rather celebrate the range and emotional depth that Schubert's art encompasses, the breadth of response and interpretation it evokes and that gives such diverse feelings of pain and pleasure." (I quote here from The Life of Schubert by Christopher Howard Gibbs)
I would like to add a small detail that fills my heart with pride: Eusebius Mandyczewski, a composer of Romanian origin, edited the first collection of Franz Schubert's works published in 1884 by Breitkopf & Härtel, the same publishing house that refused to publish Schubert's famous liedDer Erlkönig in 1816.
History is a strange thing, isn't it?
Therefore, read The Life of Schubert by Christopher Howard Gibbs in order to discover the man who indeed was the embodiment of the Romantic spirit.
Cristina Comandașu
Translated by Raluca Mizdrea and Ruxandra Câmpeanu
MTTLC, Bucharest University