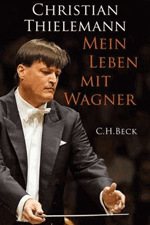 Christian Thielemann: Mein Leben mit Wagner/My Life with Wagner
Monday, 11 November 2013 , ora 10.32

Unter Mitwirkung von Christine Lemke-Matwey (in collaboration with)
VERLAG C. H. BECK (publishing house)
MÜNCHEN 2012
The book that we are presenting is dedicated to the 200 year birthday anniversary of German composer Richard Wagner. This book was written by conductor Christian Thielemann and Christine Lemke- Matwey, with the help of Wolfgang Wagner, the composer's nephew and the director of the famous Wagner Festival of the Bayreuth Festspielhaus from 1951 until 2008. The author wrote on the first page of his book, entitled Mein Leben mit Wagner/ My life with Wagner, the following words: 'To Wolfgang Wagner, with great admiration and gratitude.'
Christian Thielemann is today one of the most appreciated and extremely active artists in the international music world. His attention is equally divided between the symphonic and lyric repertoire. Here, the musician owns the special bond with Richard Wagner's works. 'I do not exactly know how I came to approach Wagner's music, whether I firstly thought of the composer or how could I conduct his music?'
Christian Thielemann stands out in the contemporary music scene in regard to the profoundness of his bond with Wagner's music. The musician knows the scores down to the smallest detail. The initiation journey lasted practically a lifetime. It began at Berlin and it continued through Venice, Hamburg and Chicago to Bayreuth. In this book, the conductor delivers a thorough and genuine recording of the traveled road in time to the essence of the Wagnerian creation, a road paved by the experience from Bayreuth. Particularly remarkable and original is the artist's involvement. He guides the reader through the scores' meanders on the path chosen by the conductor, climbing down the historical, musical point of view and an especially complicated and intense expressiveness.
His book claims to be an invitation addressed to all of those who are trying to get closer, from the inside, to the Bayreuth Maestro's work. When he died, Richard Wagner was equally loved and detested, as the international music world was divided into two hard- bitten groups truly convinced that righteousness is on their side.
The text is a guide in the Wagnerian creation's laboratory and also in that of the conductor- interpreter.What he ought to search, to discover, to highlight and what traps should he avoid. Thielemann does not hold back to expressing his most intimate feelings, giving details about musical aspects, analyzing characters, explaining the movement which is sometimes difficult to follow and to comprehend.
After finishing the book, both the one who is familiar with Richard Wagner's name and the one who hears it for the first time are completely certain of the composer's brilliance and his work's greatness.

CV: Christian Thielemann was born in Berlin in 1959. In 1988, in Nurnberg, he becomes the youngest German artistic director. Between 1997 and 2004, he was the artistic director at the German Opera of Berlin, and between 2004 and 2011, he managed the Munich Philharmonic Orchestra. Since September, 2012, he has been the principal conductor of Dresden State Opera Chorus and since the beginning of 2013; he took over the artistic direction of the Salzburg Easter Festival. In 2000, he made a striking first appearance at the Bayreuth Festival and then, he returned, year after year, on the stage of the famous Festspielhaus theatre.
Cristina Sârbu
Translated by Petronela Morosanu and Elena Daniela Radu
MTTLC, The University of Bucharest