> [Archived] Events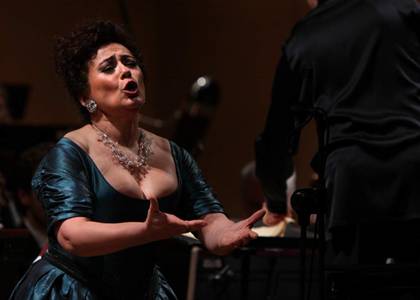 Soprano Leontina Văduva Was Honoured by Radio Constanța and the Seaside Audience
Thursday, 13 November 2014 , ora 10.21

The famous soprano Leontina Văduva received from Radio Constanța, a plaquette as a sign of recognition for the renown she gave Romania due to her interpretations on stages world wide. The famous soprano performed on the stage of the 'Oleg Danovski' National Opera and Ballet Theatre at the 40
th
edition of the International Festival of Music and Dance. On Radio Constanța, Leontina Văduva talked about important world opera stages , about opera nowadays, about models and young artists: the 'George Enescu' International Voice Competition took place in Paris two weeks ago and a Romanian young man from Galați, Ionuț Vîrban, who has a young, bright, so to say, almost typically Romanian voice, won it.
Romanian voices have a certain peculiarity,a special sensitivity; they have this mixbetween a bit of Slav and Latin sensitivity. The language itself is very permissive in terms of singing and helps the performer, but then, there is also this affective dimension which transposes itself into music; and Romanians generally have no problem in adapting to any style , because they have this malleability of assuming different styles with great ease; and this is a gift from God, the gift we have received.
The famous soprano received standing ovations in Constanța, on the evening of 11th November. Impressed by the plaquette she received, Leontina Văduva thanked the audience by delivering a special encore. The lyrical evening ended with 'Eu ma duc, codrul rămâne' by George Enescu, in a performance that left the audience with tears in their eyes.
In 2000, Leontina Văduva sang in six performances of La Bohème (in the role of Mimi) on the stage of the Metropolitan Opera in New York . Along the time, the soprano was invited to perform onto the most famous stages and festivals in the world, accompanied by orchestras from Buenos Aires, Barcelona, Cologne, Wien, Venice, Paris and similar such big cities. She performed frequently on the stage of the Royal Opera in Covent Garden, in Rigoletto, Carmen (in 1991 and 1994) and Romeo and Juliet (1994). In 1990, in a concert in Wien she sang traditional folk music, dressed in a national costume. Placido Domingo and Jose Carreras performed on that ocasion, too.
Her fame over the Atlantic Ocean was given by the role from her Italian repertoire, Mimi, the soloist performing it successfully in San Francisco in 1996 and four years later at the Metropolitan Opera in New York. In 1996, she recorded a collection of arias under the coordination of her greatest admirer, Placido Domingo.
The discography of the artist includes Rigoletto (1993), Les Contes d'Hoffmann (1996), La Bohème (2006) and the album Opera Arias (1997) with Placido Domingo.
Her life on stage has brought her impressive awards: first prize at the International Singing Competition in Toulouse, Chevalier de l'Ordre des Arts et Lettres (France), Laurence Olivier Award for Best Opera Performance, the Royal Philharmonic Society Award and the title of Grand Officer of the National Order for Cultural Merit (Romania).

Translated by Anca Romete and Elena Daniela Radu
MTTLC, the University of Bucharest