> [Archived] Events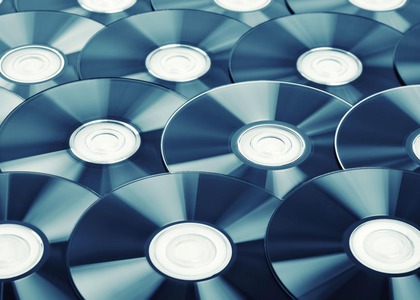 Records of the year 2017 at Radio România Muzical
Thursday, 11 January 2018 , ora 15.18

Throughout the year 2017, 140 records have been broadcast for the first time during
Radio România Muzical's shows, which include classical music, jazz & more. All the albums can be listened on the site of the project
Records of the year 2017
.
At the end of the year, the directors of the shows and the the rubrics Music box, CD Review, Jazzy hour, Opera ?i vedetele ei, have chosen these titles that seemed of a better artistic and tehnical quality, albums that we declare the records of the year 2017 at Radio România Muzical.
So, we are waiting you to get to know with the records of the year 2017 at Radio România Muzical.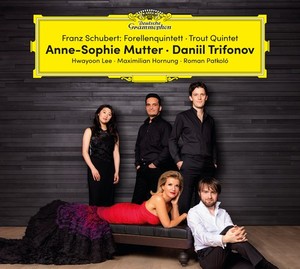 Trout Quintet by Schubert with
Anne Sophie Mutter, Daniil Trifonov, Hwayoon Lee, Maximilian Hornung, Roman Patkolo
It was released on the 3rd of November 2017 by Deutsche Grammophon House and it was broadcast on 20 November at Radio România Muzical.
Here is a very happy case where a famous score finds a proper interpretation for the 21st century. Musicians of different generations - Anne Sophie Mutter with 40 years of career, Daniil Trifonov and other artists, at the debut of important international galleries, meet in a lively recording full of color, excitement and livelihood; alert tempoes serve Anne Sophie Mutter's idea: "room music is the most full-of-emotion musical genre, and emotions are not gray." Indeed, nothing is gray, boring or obsolete in this interpretation that can convince those who, as a rule, do not listen to cultured music. "- Cristina Comandasu
Selections on this album can be listened on Wednesday, 27th of December, from 10:00 to 17:00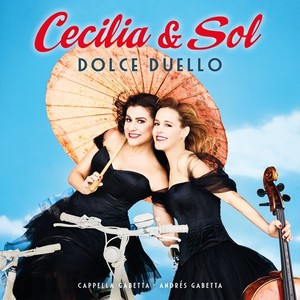 Mezzosoprano Cecilia Bartoli and cellist Sol Gabetta - album "Dolce duello"
On the 10th of November, Decca publishes the newest album signed by diva Cecilia Bartoli - Dolce duello, an album signed together with the no less-known cellist Sol Gabetta and the ensemble Cappella Gabetta, led by Sol's brother, Andres. On this record, we find arias signed by baroque composers such as: Antonio Caldara, Domenico Gabrielli, Antonio Vivaldi, Nicola Porpora, Georg Friedrich Handel, and op. 34 Concert for cello and orchestra by Luigi Boccherini.
I appreciated this album for the quality of the repertoire - the areas from Nitocri and Gianguir by Antonio Caldara and the area from ??the opera Gli orti esperidi by Nicola Porpora are recorded in world premiere on the disc, Cecilia Bartoli preparing such repertory surprises in most of her albums. I have appreciated even more not the duel, but the communion between two great artists, which complement each other, in a perfect dosed discourse. And the stamp of Bartoli's voice perfectly matches the warm and deep sound of Sol Gabetta's cello; two musicians with the same pathos, experience and ability to create emotion at the top of their career, who give an example of what music is and how it must be lived. "- Cristina Comandasu
Selections on this album can be listened on Wednesday, 27th of December, from 10:00 to 17:00.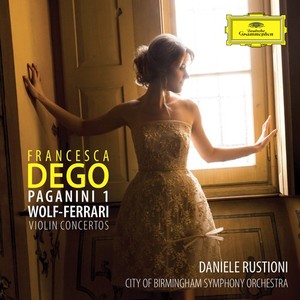 Violinist Francesca Dego - Concerts by Ermanno Wolf Ferrari and Nicolo Paganini
For the novelty and the quality of the proposed repertoire, we chose as one of the records of the year 2017 at Radio România Muzical the album signed by the Italian violinist Francesca Dego and the City of Birmingham Symphony Orchestra, conductor Daniele Rustioni. An album released by Deutsche Grammophon House on 27th of October 2017, presented at Radio România Muzical on 13th of November, on which is listed the Concert in Re major by Ermanno Wolf Ferrari and Concert no. 1 for violin and orchestra by Nicolo Paganini. The work of Ermanno Wolf Ferrari was recorded during a concert held in March 2017, which was presented for the first time in the UK. A breakthrough: this Ermanno Wolf Ferrari concert, composed in 1943 in a neo-romantic style, a very difficult score dedicated to a star violinist from the thirties of the 20th century, awakened to life by Francesca Dego, a young musician who is distinguished by maturity, accuracy, technique and sensitivity. "- Cristina Comandasu
Selections on this album can be listened on Wednesday, 27th of December, from 10:00 to 17:00.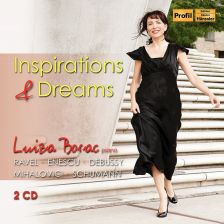 Pianist Luiza Borac – the album Inspirations and dreams
On 8th and 15th of May, I proposed to you in two episodes the latest album signed by pianist Luiza Borac for Hanssler Classic House - Inspirations and dreams. A very beautiful title for (another) album dedicated by Luiza Borac to George Enescu - after the precedents awarded with important prizes and praised reviews by the international press. George Enescu's youth works, some recorded for the first time on the disc, as well as opuses signed by composers who lived in the same Parisian ambience of the beginning of the 20th century, friends or close friends of George Enescu - Ravel, Mihalovici, Debussy. And, in addition, records of two works by Schumann, the composer so often performed by conductor George Enescu: Ahnung, which Luiza Borac played in world premiere in 2009 and the Concert for piano and orchestra, recorded in Bucharest at the Radio Hall, in 2008, alongside the National Radio Orchestra, conductor Horia Andreescu.
Obviously, I appreciate at its best the quality of the repertoire chosen for this album, but also the evocative, moving, glamorous, brilliant interpretation of this high-caliber pianist. - Cristina Comandasu
Selections on this album can be listened on Thursday, 28th of December, from 10:00 to 17:00.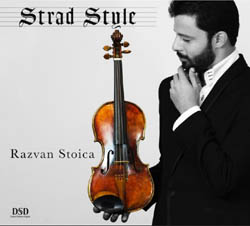 Violinist Razvan Stoica - the album "Strad Style"
On 12th of January 2017, the Strad Style album was released in Bucharest, signed by violinist Razvan Stoica - an album that I also consider to be one of the albums of the year 2017 in Romania. "... truly a sample of stunning violin virtuosity, but also of interpretive maturity at the same time." – I have written about this album at his first audition on 2nd of January 2017, at Radio România Muzical. The album has a peculiar history - it is the soundtrack of a documentary about the making of a violin, Strad Style, a film that has played at major international festivals, welcomed by audiences and critics. Strad Style music means Paganini, Bartok, Ysaye - and works for solo violin with a common denominator: highly technically demanding for the violinist singer. Razvan Stoica proposes versions that conquer with their accuracy, freshness and brilliance - with his Stradivarius violin won after a contest with 200 other contestants. A success for the young Romanian violinist established in the Netherlands, who in November-December 2017 also performed his first recital and concert tour in Romania. - Cristina Comandasu
Selections on this album can be listened on Thursday, 28th of December, from 10:00 to 17:00.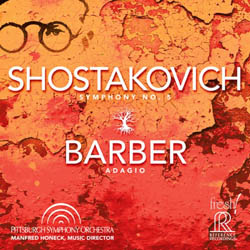 Pisttburgh Symphonic Orchestra, conductor Manfred Honeck. Samuel Barber - Adagio for String Orchestra, Dmitri Shostakovich - The Fifth Symphony
Only one specification in necessary for this disc: it is also nominated for The Best Orchestral Orchestra for the Grammy Awards that will be awarded on 28th of January 2018. On this disc we find Adagio by Samuel Barber and The Fifth Symphony by Shostakovich in the interpretation of Pittsburgh Symphonic Orchestra, conducted by Manfred Honeck.
It is a shattering disc that has the ability to take the auditor out of the narrow reality we live in to send it to a universe in which there are other, deeply spiritual meanings. But there is no emphasis in the interpretation proposed by Honeck and Pittsburgh Symphonic Orchestra, an exceptional quality of we could convince in September 2017 and at the Enescu Festival in Bucharest, but tension, introverted experience, searching for the deepest meanings of some of the 20th century scores that, although among the most often interpreted in their stylistic area, still conceal unexplored meanings. How is the construction of Adagio de Barber, considered to be one of the saddest works in the history of music, as a song of hope and reconciliation in the spirit of Agnus Dei of the Catholic Missa ("The Lamb of God, who took upon you all the sins of the world, have mercy on us, bring peace to us"), a vision shared by Barber himself who also wrote a version of this Adagio with the a cappella chorus, even on the lyrics of Agnus Dei. Simply, exciting!
The highlight of the album is The Fifth Symphony by Dmitri Shostakovich, one of the most often interpreted of Shostakovich's symphonies. Here's what I was saying when I first presented this album on October 30: "The Russians saw in this symphony not a glorious transformation of man in communism, as interpreted by the authorities, but the expression of a drama lived by a whole, impressed people as well as the echoes of Russian religious music that seem to be seen especially in the third earth-shattering part of the symphony. People have cried at the premiere of this symphony when listening to this slow part: and 80 years after this premiere, Pittsburgh Symphonic Orchestra, led by Manfred Honeck, makes us relive the drama of those who have gone through the hopeless desertion of communism. We have a masterful interpretation of this Fifth Symphony by Shostakovich, and I do not think the American critic from "Stereophile Magazine" , Kalman Rubinson, exaggerated when he said that this performance of the Pittsburgh Symphonic Orchestra is "the best of this century." I recognized more tension and introvert in this performance than in Boston Symphonic Orchestra, led by Andris Nelsons, which received a Grammy Award this year. " - Cristina Comanda?u
The album can be listened on Thursday, 28th of December, from 10:00 and 17:00.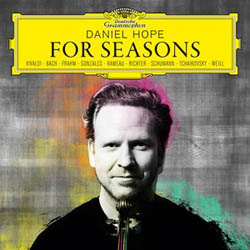 Violinist Daniel Hope – the album "For Seasons"
On the 3rd of March 2017, the Deutsche Grammophon House released its newest album, signed by British violinist Daniel Hope - For Seasons - not four seasons, but for the seasons, a tribute from this so inventive musician to the passing of time, a project he had thought of for 20 years. On this album, of course, Vivaldi's Seasons enjoy a balanced version - between authentic and modern interpretation, with baroque stylistic elements well brought to light; a bright, fresh interpretation, with an obvious science that comes from the fact that Hope played on this stage more than 1,000 times this concert cycle, which he often listened to in the interpretation of Yehudi Menuhin, his teacher . Daniel Hope is the current musical director of Zurich Chamber Orchestra, with which he has made this valuable record.
Beyond the high-quality interpretation, I appreciated the album's conception and addressability to a wider audience than the one who usually buys a classical music disc. Because the second part of this album is a repertory selection made by Daniel Hope – one piece for each month of the year. In total, 12 very different works from Baroque to Chilly Gonzalez's music. 12 songs that tell a story about life, love, appreciation and understanding that can be easily understood by anyone; 12 songs selected with a perfect musical taste - a way to escape from reality, which, I believe, we all look for when listening to good music. "- Cristina Comandasu
Selections from this album can be listened on Friday, 29 th of December, from 10:00 to 17:00.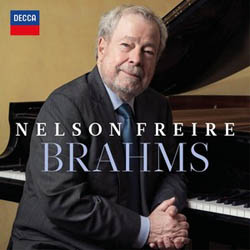 Pianist Nelson Freire - works by Johannes Brahms
Another disc that seemed to me to be out of the ordinary of what I have broadcast in 2017 at Music Box, the actuality discography show from Radio România Muzical, is the solo piano works by Johannes Brahms in the performance of pianist Nelson Freire. He appeared on 25th of August 2017 at Decca House; is the album with which the well-known pianist celebrated his 50 years of discography.
Nelson Freire is recognized as one of the great contemporary performers of Brahms' music; and this album proposes a panorama of all the creative stages in the Brahms piano literature. But it seemed to me so special was the performance of the songs from op.116-119, which I had mentioned on 28th of August, when this album was broadcast for the first time at Radio România Muzical: "The tracks from the cycles with opus numbers from 116 to 119 are late maturity works in Johanne Brahms's creation, an expression of unmistakable refinement and style, and Nelson Freire manages to capture the whole palette of feelings and nuances in the pages of the Brahms score, that autumnal atmosphere full of Brahms' romance: when writing his latest piano opus, Brahms had nothing to prove: he was considered a great composer, the great opuses had already been written, these piano pieces are the testament of a man who lived for music and through music, and who loved without love being shared. " A great pianist, an antological interpretation "- Cristina Comandasu
Selections from this album can be listened on Friday, 29th of December, from 10:00 to 17:00.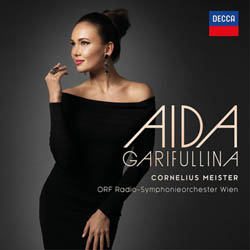 Soprano Aida Garifullina - debut album
"It's enough to listen to this voice once, and then you cannot forget it - soprano Aida Garifullina, who released her debut album on 3rd of December 2017. A coloratura soprano voice, with special qualities of ambitus and color, a beautiful stage presence, a beautiful and talented woman who has chosen with great care and intelligence the repertoire of her first album for an important house. Obviously, we find on this disc The Bells Aria from opera Lakme by Leo Delibes - the aria that propelled her to the attention of the whole world after Aida Garifullina played soprano Lily Pons in Florence Foster Jenkins, with Meryl Streep and Hugh Grant starring in. But beyond this sequence, we find on the album arias and songs from the Russian repertoire, some of which are less well known, alongside songs from Tatar folklore (Aida Garifullina originates from the Republic of Tatarstan). "Aida Garifullina convinces through sensitivity and inner living; Last but not least, she is a very beautiful woman. Yes, she has all the qualities to become a superstar of today's opera. "- I have written on 20th of February, when this disc was first broadcast on Radio România Muzical." - Cristina Comandasu
Selections on this album can be listened on Friday, 29th of December, from 10:00 to 17:00.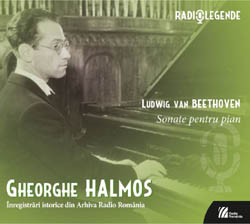 Pianist Gheorghe Halmos. Sonatas by Ludwig van Beethoven
It was 32 years on 13th of September, since Gheorghe Halmos had died, the remarkable Romanian pianist being the protagonist of the album released recently by Casa Radio Publishing House, a project that brings together two compact discs, including 6 Beethoven sonatas recorded by Gheorghe Halmos between 1959 and 1983. The pianistic approach of Halmos is not a sentimental one, the Romanian musician is not interested in the sound effects, but in the reproducing of the clear, transparent Beethoven's message, from a rather objective, rigorous perspective and with a careful control of emotional dosing. Not from a lack of affection, but from the belief that no element of one's own personality should interfere with the deep sense of the score. Gheorghe Halmos constantly distributes the sound essences, with a modesty and a lack of interpretive vanity that impresses and satisfies to the same extent. He does it including in the latest sonata on this album, op. 106 no. 29 in Major Bemol, Hammerklavier, undoubtedly one of the most important creations in the piano repertoire. Beethoven goes beyond the classical landmarks, looking prophetically beyond them, to the new romantic style that will become so obvious to Schumann or Liszt. "- Ioana Marghita
Selections from this album can be listened on 1st of January, 10:00 and 17:00.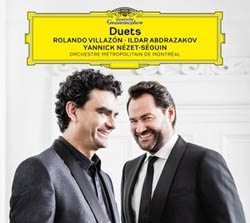 Tenor Rolando Villazon and bass Ildar Abdrazakov - the album "Duets"
"Duete" - an album with three outstanding artists: Mexican tenor Rolando Villazón, Russian bass-baritone Ildar Abdrazakov and Canadian conductor Yannick Nézet-Séguin. It was released this fall, on 22nd of September, at the Deutsche Grammophon and it has already received enthusiastic appreciation from the chroniclers. Perhaps because, though different, from the timbre point of view their voices merge wonderfully, or ... maybe because they have chosen for this album some of the most beautiful duets for tenor and bas-baritone voices in opera work. Without forgetting their origins, tenor Rolando Villazón and bass-baritone Ildar Abdrazakov added to the repertoire two songs with special arrangements, facets of their personal life: the canzonet "Granada" by Augustin Lara and the song "Ochi Chernye". Listening to this disc you are connected to a totally different way of doing the opera, from the perspective of the new hero-star: modern, natural, human, unsophisticated and, at the same time, cult, imaginative, impetuous, passionate. "- Jeanine Costache
Selections from this album can be listened on 1st of January, from 10:00 to 17:00.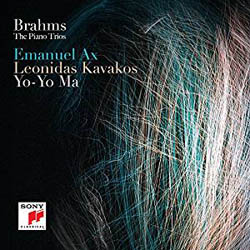 Violoncellist Yo Yo Ma, pianist Emanuel Ax, violinist Leonidas Kavakos. Trio by Johannes Brahms
From the first note I sang together, Emanuel Ax, Yo-Yo Ma and I have all felt an invaluable blessing. "- violinist Leonidas Kavakos described the nature of his collaboration with the two great musicians in the making of the album with three Trios and piano by Johannes Brahms, appeared at Sony House, a discography project that you should not miss because the German composer's opuses are approached with deep reverence for his musical genius. The album opens with the second Trio with piano op. 87, composed between 1880 and 1882, that Brahms always declared himself very satisfied, despite his well-known reluctance for his own score. And the perceived pride is fully justified, the opus admirably combining elegance with passion, sadness and regret with vigorous energy and seriousness with affectionate playfulness. As we all expected, Emanuel Ax (who has a Steinway piano), Leonidas Kavakos (who owns a 1734 Stradivarius violin) and Yo-Yo Ma (who also plays Stradivarius, but since 1712) offers an altitude version of this score, with deep interpretive anchorage in the Brahmsian world. The communication between them is excellent, you feel how they breathe together, the vibratos are aligned, the melodic phrases are rendered with a clarity behind which the ideological consensus can be felt. In short, a truly reference version offered by pianist Emanuel Ax, violinist Leonidas Kavakos and violoncellist Yo Yo Ma." - Ioana Marghita
Selections from this album can be listened on 1st of January, from 10:00 to 17:00.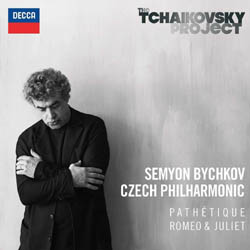 Czech Philharmonic Orchestra, conductor Semyon Bychkov. Piotr Ilici Ceaikovski vol.1
"I've loved Tchaikovsky's music ever since I can remember and like all the first love, she never died," says Semyon Bychkov.
The album is part of the Tchaikovsky Project launched by the conductor, a disc that also has a special significance for Decca Classics House. It was released almost 40 years after the first collection dedicated to Piotr Ilici Ceaikovski, and it is the first album with high-definition records containing the works of the Russian romance master. Decca House promises, under the same sound performance conditions, the integrity of symphonies, piano concerts and other works for the orchestra under the baton of Semyon Bychkov. On 25th of August 2017, the second volume of the series was released, with the Manfred Symphony - Gabriel Marica
Selections on this album can be listened on Tuesday, 2nd of January, from 10:00 to 17:00.


Pianist Maurizio Pollini. Frederic Chopin's late works
"Maurizio Pollini says "I'm in love with Chopin - his music does not stop to amaze me."
"It is an album which proves that Pollini remains a chopinian reference artist." The musical meaning of each score is clear. Each has a distinct color from a deep understanding of the music. He is not just singing, he is speaking with the eloquence of a great orator. The piano is faithful to him, the sounds obey to him so that the artist can bring Chopin closer to the listener of this album. - Gabriel Marica
Selections on this album can be listened on Tuesday, 2nd of January, from 10:00 to 17:00.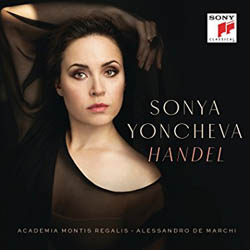 Soprano Sonya Yoncheva – the album "Handel"
"Every character in Handel's chore for this recital is a legendary portrait." Sonya Yoncheva creates strong heroines, independent, passionate women. "Alcina, Cleopatra, Theodora, or Agrippina take shape grace to that surprising emotional palette that Sonya Yoncheva is capable of reproducing with great skill. Beyond that, what stands out is the mastery of the Baroque music's interpretation which the singer gained during the period when she worked as a member of the Le Jardin des Voix ensemble led by William Christie. - Gabriel Marica
Selections on this album can be listened on Tuesday, 2nd of January, from 10:00 to 17:00.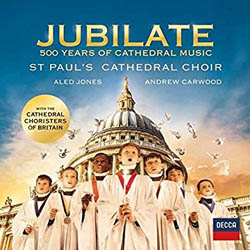 The album "Jubilate. 500 years of cathedral music"
500 years of religious music, an original collection of works by Thomas Tallis created by John Rutter, with names such as Georg Friedrich Handel, Charles Stanford, Felix Mendelssohn, Charles Parry, Ralph Waughan Williams, and many others among these names of reference. The most interesting part of the program is, in my opinion, the one dedicated to contemporary and twentieth-century creators like Ralph Vaughan Williams, John Ireland, Henry Balfour Gardiner, Sir William Walton, Howard Goodall, John Rutter, Paul Mealor, Charles Hubert Parry.
Andrew Carwood, the director of this album, says: "I hope that this album will offer to the listeners a scintilla of the Heaven of Music that we try to create every day in St. Paul's Cathedral" - Gabriel Marica
Selections on this album can be listened on Wednesday, 3rd of January, from 10:00 to 17:00.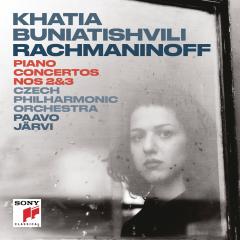 Pianist Khatia Buniatishvili. Sergei Rahmaninov - Concerts no. 2 and 3 for piano and orchestra (Czech Philharmonic Orchestra, conductor Paavo Jarvi)
Beyond impeccable technique in interpreting piano concerts by Rahmaninov, Khatia Buniatishvili creates many wonderful moments. It feels that the pianist builds his own image on the score sheet and sends it with all sincerity. She is less interested in the reaction she creates. He is sincere, lives every note, has imagination, finds the balance in meditation, has the passion and the incandescence that the score demands. "- Gabriel Marica
Selections on this album can be heard on Wednesday, January 3, from 10:00 to 17:00.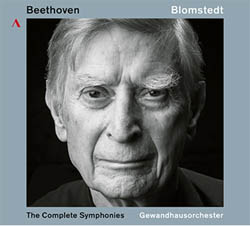 The Gewandhaus Orchestra in Leipzig, conductor Herbert Blomstedt. The integral of symphonies by Ludwig van Beethoven
The new integral of Beethoven's symphonies in the vision of Herbert Blomstedt, this time at the Leipzig Gewandhaus Orchestra, is undoubtedly a step ahead of the 70's approach of the last century. Time has added depth, flexibility to a perspective characterized by balance, clarity and thoroughness. In the Sixth Pastoral Symphony, for example, the Swedish conductor focuses mainly on the expression of Beethoven's feelings, just as the author understood his opus, and less on pictorial descriptiveness. Music has grace, sensitivity and elegance, consistently lying between lights and shadows, between the loud and bright sounds and the tense, stormy sounds. The Gewandhaus Orchestra in Leipzig fully demonstrates its qualities that have always propelled it into the elite of the German symphonic ensembles. It is vigorous, alert, precise, rhythmic and dynamic, always responding promptly to the conductive indications, offering remarkable versions of these so-known symphonies. - Ioana Marghita
Selections on this album can be listened on Thursday, 4th of January, from 10:00 to 17:00.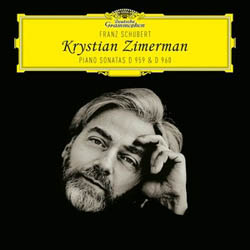 Pianist Krystian Zimerman. Sonatas by Franz Schubert
Prepare yourself for a different approach of the last two solo piano opuses signed by Franz Schubert while listening to Krystian Zimerman's last disc. An approach characterized by sound spatialisation, with an expressiveness directed to the interior, an essentialisation of the expression through which the Polish pianist assumes an appreciable dose of ambiguity, preferring to speculate the contrasts, precisely to enhance the sensitivity. The melancholy, the sadness and the tragedy are always present, at a closer look, behind the playful cheerfulness with which the rapid parts are rendered, at the base of seemingly bright virtuosity is always the bitter rhythm that Zimerman is always aware of. The play of the contrasts is best shown in the slower parts, where the gap between the left hand, the gentle and the right hand, in a singable legato, offers a maximum relief to the emotional profile of the music. From this disc we listen to Sonata no. 21 D 960 in B flat in such an attentive version to the Schubert world, so refined and expressive that it will certainly not leave you indifferent. "- Ioana Marghita
Selections on this album can be listened on Thursday, 4th of January, from 10:00 to 17:00.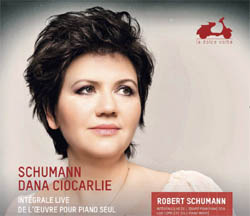 Pianist Dana Ciocârlie - the work's integral for piano solo by Robert Schumann
In the latest album by pianist Dana Ciocârlie, which includes the work's integral for piano solo by Robert Schumann, the musician introduces us into the sonorous universe imagined by the romantic composer, bringing out the passion, the drama, the literary alusions, the humor and the spontaneous impulse. As the pianist notes, on the brochure accompanying the album, "Schumann's music is not conceived in the traditional terms. The dominant element is the spontaneity: instantaneous changes from one soul state to another, structural imperfections caused by the joy of inspiration ... The perpetual and hallucinating struggle with destiny is magnificent at Robert Schumann. "Listening to Dana Ciocârlie, you will be able to admire the clarity of the sound and the expressiveness of the pianist, a deep connoisseur of the particularities of Robert Schumann's music. She succeeds in transmitting a whole range of sonorous colors specific to Schumann's creation, suddenly moving from one emotional state to another, without losing sight of the unitary aspect of the interpretations The remarkable virtuosity of pianist Dana Ciocârlie is known, as well as her technical agility and clarity with which the sound plans are reproduced. But in these recordings made in Paris and released on disc in September 2017, the artist also demonstrates that she feels comfortable in Schumann's music world, always having the ability to turn from a sensitive and delicate interpreter into a fierce one. - Larisa Clempus
Selections on this album can be listened on Friday, 5th of January, from 10:00 to 17:00.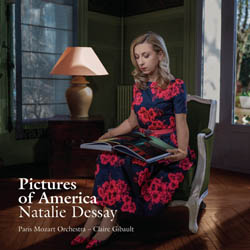 Natalie Dessay - Album "Pictures of America"
Sonorous images of America, in which Natalie Dessay invites us to enter the universe of the well-known American master of visual arts, painter and engraver Edward Hopper. "I had to learn to control myself and transform myself altogether" - says the artist. And indeed the voice of Natalie Dessay is unrecognizable in these records, in a good sense of the word. It has a lot of expressiveness, though it is white without any vibrato but full of life, which is great for this jazz arrangement - a delicate and inventive concert by French musicians Baptiste Trotignon, Patrice Caratini, Cyril Lehnet and Pierre Boussaguet. - Gabriel Marica
Selections on this album can be listened on Friday, 5th of January, from 10:00 to 17:00.
The European Chamber Orchestra, conductor Yannick Nezet Seguin. The integral of the symphonies by Felix Mendelssohn-Bartholdy
In 2017, 500 years have passed since Martin Luther's reform, a moment that marks the emergence of the Protestant Christian church. An important anniversary, especially for the Germanic region, also marked by music by the appearance of an album with the integral of the Mendelssohn-Bartholdy's symphonies, performed by the European Chamber Orchestra, led by Yannick Nezet Seguin. The album was released on the 16th of June 2017 by the Deutsche Grammophon House.
The choice of Felix Mendelssohn-Bartholdy's symphonies was not accidental: The Sixth Symphony is called Reformation and was written in 1830 to mark 300 years since the signing of Confessio Augustana, one of the most important Lutheran Church documents of faith. Felix Mendelssohn came from a family of Jewish origins, but he was baptized a lutheran Christian and was also a very active member of this church, as well as his Fifth Symphony, which was not an order, but the contribution that Mendelssohn-Bartholdy wanted to bring at his anniversary in 1830. In the last part of the symphony we find a coral written by Martin Luther, Ein Feste burg ist unser Gott.
The series of five symphonies by Felix Mendelssohn-Bartholdy enjoys on this album an interpretation that respects the score, but brings freshness, energy and shine; in fact, Yannick Nezet Seguin is recognized for his ability to bring out full-of-life visions for 21st-century people of some well-known scores in the history of music. - Cristina Comandasu
Selections on this album can be listened on Friday, 5th of January, from 10:00 to 17:00.

JAZZ ALBUMS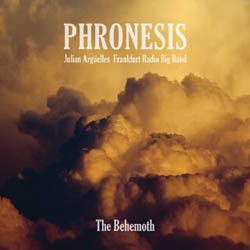 The Phronesis Band - "The Behemoth"
"Europe has become the adoptive continent of jazz, developing a scene and a school that keep the phenomenon in a state of permanent evolution and enrichment." Sensational Soloists, perfectly formed formulas, personalities that become the symbols of a self-contained culture. Talking about the form's perfection, we arrive at Phronesis, one of the most spectacular and powerful piano trio compositions since 2005. "Parallax" appeared as a peak in 2016, and after exactly one year it happens what any jazz lover would expect from Phronesis' hypnosis: "The Behemoth," an album with their best tracks, orchestrated for the big band by a great arranger, in the person of Julian Arguelles, with the solo distribution on several instruments and the hold of an album from the category of those who stay in top for a long time. The repeated audition brings new layers and nuances and is primarily due to the fascination, the pleasure of listening to this music that you understand and feel easily and that you immediately attach to. You listen to it not to understand, but because you simply like it immensely. All those sophisticated compositions reappear augmented and colorfully on the same solid basis of consistency given by the trio in the interpretation of the Frankfurt Radio Big Band. Jasper Høiby, Ivo Neame and Anton Eger are developing their environment in the most appropriate and elevated company for one of the best albums of the year. - Berti Barbera
Selections from this album can be listened on Monday, 1st of January, from 10:00 to 17:00.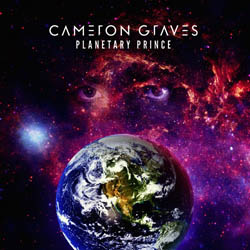 Pianist Cameron Graves - Planetary Prince album
The grand epic project "The Epic," released by Kamasi Washington in 2015, consists of some brilliant musicians, small geniuses who have opened their own discographic path and exploded with exceptional albums. I'm talking about Ronald Bruner Jr, his Thundercat brother, Miles Mosley or Cameron Graves. The latter proposes with conviction an absolutely wonderful album through music and artistic level. Like the rest of the groups he has worked on, including The West Coast Get Down, another revelation of 2015, pianist Cameron Graves debuts as a band leader with a set of well-structured tracks in their generous durability, under the title "Planetary Prince". The funky and bold Jazz in new stylistic proposals that we meet with this generation of musicians, surprises us, giving us the feeling of novelty, the inexhaustible permutation of some notes that are still said to have said a bit what they had to say. Until inventing the 13th note, you have to be more technical and inspiring to have something to say. Cameron Graves listens to a lot of genres of music, and this is seen in the level at which he uses his amazing virtuosity. The same level is felt in the flowing composition, despite the complex forms and the density of instruments, showing at the same time its influences. In a collection of top productions, "Planetary Prince" has set its own culmination.
Selections on this album can be listened on Tuesday, 2nd of January, from 10:00 to 17:00.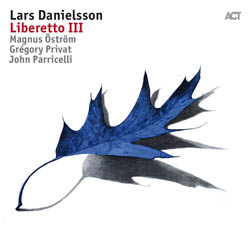 Lars Danielsson – the album "Liberetto 3"
The jazz musician has the possibility, if not the purpose, of evolving, based on his musical level and the environment, stimulated by new possibilities and influences. Bassist and violonceller Lars Danielsson, through his album "Liberetto", has also marked a point of evolution, not only through composition, but also by choosing the musicians directly related to his specific music. The success of the first series, as well as the possibilities of expanding the musical plan without redundancies and commercial tricks, led to the "Liberetto 3", equally intense, in a natural continuation of lyrical elegance and infallible rhythm, in a super-group formula with Magnus Ostrom at the battery, Gregory Privat at the piano and John Parricelli on the guitar. A formula different from the original, but equally involved in the complexity of this beautiful achievement, in perfect balance between accessible and virtuous. Because without a perfect technique you can't reach this level of clarity. Danielsson had only brilliant formulas, but it seems that the "Liberetto" moment, in an unaltered expansion, is the best opportunity to pursue where perpetual inspiration takes place. - Berti Barbera
Selections on this album can be listened on Wednesday, 3rd of January, from 10:00 to 17:00.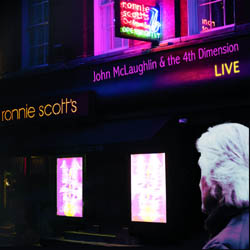 John McLaughlin & The 4th Dimension - "Live at Ronnie Scott's"
After making several times the tour around the world, the great jazz musician has to get to Ronnie Scott's little and famous club in London, an essential and intimate meeting point between passion and greatness, specially for John McLaughlin, in '60s, just as now, but with an amplu start-up, took adventurous musical paths, convinced that imagination and curiosity push you forward anyway. After 50 years, the Ronnie Scott's concert is emotionally marked by those times and everything that has happened since then, giving us an impressive artistic reach, with many references to Mahavishnu, Shakti and the 4th Dimension, in the presence the three musicians he has worked with in recent years, bassist Etienne M'bape, keyboardist Gary Husband and drummer Ranjit Barot, with whom he recorded "Black Light" in 2015. Age, or rather the passage of time does not feel in the uniformity of pieces' set but listeners who are close to the artist will recognize glamorous themes, titles and especially a style untouched by the weather, marked by a seemingly inexhaustible energy, even if McLaughlin discreetly announced his last tour in 2017. The time between the two essential points of the road are perfectly played in this concert, and the inner mount flame burns equally intense after half a century. - Berti Barbera
Selections on this album can be heard on Thursday, January 4, from 10:00 to 17:00.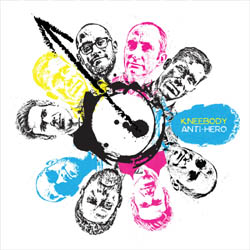 Kneebody - album "Anti-Hero"
"To give us an ideal sound when jazz, electronics, funk and developed improvisations meet in the same piece for a new type of musical exploration. The instrumentists use the same notes, but not in a predictable, formal way, but with the intention of shaping spaces, drawing a map of their musical thinking. Kneebody takes over the specifics of the jazz quintet and adds to it electronic effects and pedals applied to the prompters and other tones, in intelligent instrumentations and post-bop solos. "Furthermore, one of the most exciting aspects of this album is the fine balance between tangible and synthetic instruments, between acoustics and electronics." "Anti-Hero" is an actual musical work that achieves its creative purpose without obviously defying any convention . - Berti Barbera
Selections on this album can be listened on Friday, 5th of January, from 10:00 to 17:00.
Costache Alexandra Iuliana, MTTLC 1st year
University of Bucharest