> [Archived] Events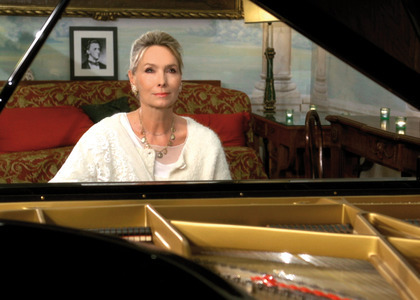 The pianist Elizabeth Sombart again in Bucharest
Tuesday, 23 January 2018 , ora 15.37

"Even though music is not a purpose in itself, it is I think a privileged path, a scale of light which allows us to access the real values of life, those who make man worthy of God". Elizabeth Sombart
From Carnegie Hall of New York to the Théâtre des Champs-Élysées of Paris, Elizabeth Sombart sang in prestigious hall concerts: Wigmore Hall (London), Concertgebouw (Amsterdam), Suntory Hall (Tokio), Herkulessaal (München) and Palau de la Música (Barcelona) together with Royal Philharmonic Orchestra, National Orchestra of Lille, Strasbourg Philharmonic Orchestra, Orchestra of Bruckner Academy from München and the Symphonic Orchestra of the XXIth century from Catalonia. Elizabeth Sombart has also an important discography (28 CDs), as well as two books also appeared in Romanian at Spandugino Publishing House: For sounds to become music (2015) and Music in the heart of fascination (2017).

Elizabeth Sombart is not for the first time in Bucharest. In 2016 she performed a charitable concert at Cantacuzino Palace and a year later, appeared with the Royal Camerata, in an extraordinary concert at the Romanian Athenaeum. The French pianist returns to this wonderful concert hall.

Wednesday, 24 January 2018, 19.00 hours,

The Great Hall of the Romanian Athenaeum

Elizabeth Sombart

Guest: Lavinia Dragoº - piano

Timetable:

Franz Schubert
Impromptu in B flat, opus 142 no.3
Klavierstuck
Sonata in B flat, D 960, opus postum
Fantasia in F Minor for four hands, D 940, opus 103

Tickets can be purchased from the Romanian Athenaeum Ticket Office.

Time schedule: Monday - Friday 12:00 - 19:00

Telephone: 021.315.68.75

For reservations visit the site www.fge.org.ro

The links of the musician Elizabeth Sombart to Romania are deep and strong. Born in Strassbourg, the musician is the great grandson of the great scientist Nicolae Leon, brother after mother with Grigore Antipa. For ten years she studied musical phenomenology with Sergiu Celibidache at the University of Mainz. And the Résonnance Foundation which she created in Switzerland in 1998 has representatives in six countries today including Romania, since 2013. The Mission of the Foundation is to organize classical music concerts in hospitals, elderly homes, specialized medical institutions, prisons. The Foundation also financially supports talented young people without material opportunities.

For her entire activity, in 2006 the pianist Elizabeth Sombart received the French distinction of the National Order of Merit in Knighthood and, in recognition of her outstanding artistic career, in 2008, the Order of Art and Letters also as a knight. The artist's presence in Bucharest is a joy and an honour.

Translated by Elisabeta Motoi,
MTTLC 2nd year University of Bucharest