> [Archived] Events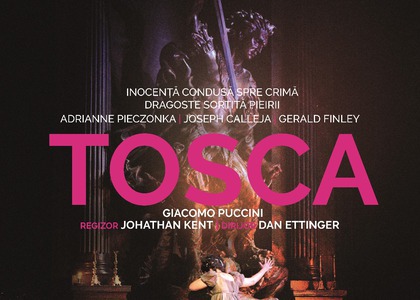 Happy Cinema presents Pucini's 'Tosca', a Royal Opera House production
Friday, 26 January 2018 , ora 12.49

Happy Cinema Bucharest invites you on Sunday, February 11th 2018, at 16:00, at Puccini's 'Tosca', one of the greatest opera experiences. Form its strident opening chords a world of political instability and thread starts unfolding. This show filled with drama, passion and fabulous music is part of the series of The Royal Opera House productions broadcast by Happy Cinema in 2018.
Jonathan Kent's production for The Royal Opera captures the dangerous political turmoil of Rome in 1800. The chief of police, Scarpia - one of the most mischievous villains - ruthlessly chases and tortures the enemies of the state. His dark and demonic music contrasts with the expansive melodies of the idealistic lovers, Tosca and Cavaradossi, who express their passion in sublime arias, including 'Vissi d'arte' and 'E lucevan le stelle'.
'Tosca' is an opera in three acts by Giacomo Puccini to an Italian libretto by Luigi Illica and Giuseppe Giacosa and it is inspired by Victor Sardou's melodramatic piece 'La Tosca'. Because it was a story about Rome it was decided that the premiere would take place in the 'eternal citadel', at Constanzi Theatre on January 14th 1900. Since its release, Puccini's 'Tosca' has been a success and it remains one of the most performed operas, due to its gripping plot and glorious music.
A candle-lit church, Scarpia's hidden torture chamber and the false optimism from the beginnings of Rome: this production throws into relief the intense dramatism of 'Tosca', leading us to the fateful conclusion. Puccini's meticulously composed music is filled with authentic details such as the distant cannon fire or the sound of the church bells.
Music: Giacomo Puccini
Director: Jonathan Kent
Conductor: Dan Ettinger
Starring
Floria Tosca: Adrianne Pieczonka
Mario Cavaradossi: Joseph Calleja
Baron Scorpia: Gerald Finley
Spoletta: Aled Hall
Cesare Angelotti: Simon Shibambu

Translated by Maria Zorilă,
MTTLC, 1st year University of Bucharest