> [Archived] Events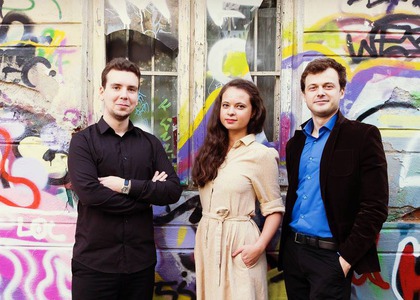 Ludens Piano Trio in Tuesday Night Season
Tuesday, 30 January 2018 , ora 12.34

The forth evening of this month's recital should have completed the series of winners of the 'Mihail Jora' Contest - as announced - but an unfortunate cramp made it impossible for cellist Octavian Lup to honor his promise. Accidents happen, we hope he will get better soon and we are certain that we will get another chance to listen to him in a recital within Tuesday Night Season, as Octavian Lup is one of the most talented musicians of the young generation! We would like to thank Ludens Piano Trio for accepting to help their colleague by replacing him on January 30th, and with this opportunity the growing audience which is rediscovering the beauty of the repertory of this genre will be enjoying a bright night with chamber music performed by other three young musicians which earned a name on the concert stages: Rafael Butaru - violin, Ella Bokor - cello, Iulian Ochescu - piano.
An Evening of Chamber Music on Tuesday, January 30th, at 19:00, at the Small Hall of the Romanian Athenaeum - Ludens Piano Trio.
Rafael Butaru - violin
Ella Bokor - cello
Iulian Ochescu - piano

The program of the evening:

* Johannes Brahms

Intermezzi and Ballade from "Six Pieces for Piano" op. 118

* Ludwig van Beethoven

Trio "Gassenhauer" op. 11 in B-flat major
* Josef Suk
Elegie op. 23

* Gaspar Cassadó

Trio in C major

The tickets can be bought from the ticket office at the Romanian Athenaeum.
Program schedule: Tuesday - Friday 12:00 - 19:00. Phone number: 021.315.68.75

For reservations access www.fge.org.ro.
Ludens Piano Trio was founded in 2015 by three young musicians: Rafael Butaru - violin, Ella Bokor - cello, Iulian Ochescu - piano, which are approaching music in a fresh manner and which are connected by the desire to reach a high level of performance and professionalism. Their development as individuals in the art of interpreting defines the quality of the trio, and even more, their experience in this formation is confirmed in the concerts with chamber music within the International Festival of Chamber Music SoNoRo Hide&Seek, The Dreamers and La Muse et le Poète, the International Festival 'George Enescu' 2017, the International Festival of Chamber Music Plovdiv 2016, Magna Curia Festival 2016.
The artistic activity of the chamber group includes performances in the season concerts not only in some prestigious institutions such as the Romanian Athenaeum, the 'Banatul' Philharmonic from Timișoara, the Cotroceni National Museum, the National University of Music from Bucharest, but also in the Round Table Bucharest Show - Enjoy TV and Music 100% - Radio Romania International. In October 2015 Ludens Piano Trio won the second prize at Plovdiv International Chamber Music Competition. The members of Ludens Piano Trio have been offered scholarships from SoNoRo Interferențe, and were invited to participate at Workshop Bucharest in 2016 and in 2017, at the Workshop held in Montepulciano - Italy 2016 and at the Workshop in Bad Endorf - Germany 2015, when Alexander Buzlov, Diana Ketler, Janis Maleckis, Alissa Margulis, Răzvan Popovici and Christoph Wyneken have been their maestros.

In the spring of 2017 they had their fisrt national tour - Ludens Piano Trio on Tour.

Translated by Maria Zorilă,
MTTLC 1st year University of Bucharest