> [Archived] Events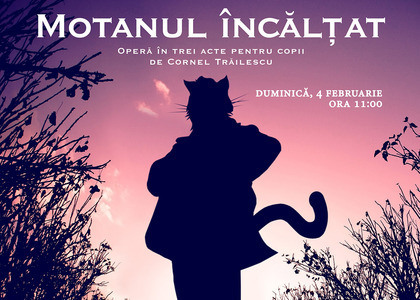 Starting with February 2018, the children's shows at The National Opera of Bucharest will be resumed
Thursday, 1 February 2018 , ora 11.45

'Puss in Boots' by Cornel Trăilescu, scheduled on Sunday, February 4th, 2018, at the matinee, starting at 11 a.m., is the first show from The National Opera of Bucharest's season dedicated to the children. The art director is Gelu Colceag, the scenography has been created by Viaceslav Vutcariov, and the coreography by Roxana Colceag. The music desk conductor will be represented by the maestro Ciprian Teodorașcu.
The story of the naughty tomcat that uses lots of tricks in order to gain power, wealth, and to win the hand of a princess for his master, has won over time not only the hearts of theatre and film directors, but also those of the composers who, based on Perrault's fairytale, have written remarkable opera works.
After more than 40 years since the premiere, in 2006, 'Puss in Boots' has been staged again at The National Opera of Bucharest, this time by the theatre director Gelu Colceag, who, through this show, has made his debut as an opera director.
The composer Cornel Trăilescu about the show 'Puss in Boots" on the stage of The National Opera of Bucharest: 'Let me tell you how it crossed my mind to write an opera for you, dear children. I know a boy who likes music very much and he's always asking his parents to take him to the Opera, especially on Sundays, at the matinee. He saw a few times 'The Barber from Sevilla' and 'Madame Butterfly'. He even knows some arias by heart. One day he asked me: <<Aren't the opera authors old people?>> <<More or less, Sorin. Why do you ask?>> <<Because all of the operas I have ever seen only talk about adults. If only children could write operas!>> After this, I have been thinking for a long time that maybe Sorin is not the only child who wants to see operas that he can actually understand. I even think that all children expect such works. And considering they can't write operas - it's quite a hard work - I have decided to give it a try.'
Tickets can be bought from the ticket office at The National Opera of Bucharest or online, at http://tickets.operanb.ro/ .
The show distribution from February 4th, 2018:
The tomcat - Cristina Eremia
The princess - Valentina Tudose - guest
The nanny - Sorana Negrea
Ionică - Ciprian Pahonea (debut)
The king - Liviu Indricău
The high official - Dan Indricău
The slave - Valentin Vasiliu (debut)
The giant - Ion Dimieru (debut)
A courtier - Marius Boloș
The first servant - Valentin Racoveanu
The second servant - Lucian Corchiș
The third servant - Florin Simionca
The fourth servant - Filip Panait
The first thief - Vasile Chișiu
The second thief - Daniel Filipescu
The white rabbit - Daria Ene

Translated by Andreea-Gabriela Orășanu,
MTTLC, an I