> [Archived] Events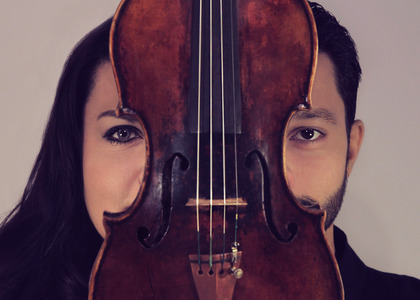 Razvan Stoica and his Stradivarius violin from 1729 on the stage of the Radio Hall
Wednesday, 14 February 2018 , ora 12.20

Razvan Stoica won the New Talent award in Bratislava in 2013, the most important competition for young musicians, being the first Romanian musician with such a performance in the history of this contest initiated by Sir Yehudi Menuhin. He won over 30 national and international awards and, since 2009 has been playing on Stradivarius ex - Ernst violin from 1729, won at the Strad Prize contest in Salzburg, where he had 170 competing candidates. Since 1996 he is performing together with his sister, piano player Andreea Stoica, as Duo Stoica, a successful formula that has brought them for concerts and recitals not only on well-known stages in Europe, but also in the United States and Asia.

At Radio Hall, the two musicians propose a spectacular dialogue between classical music and Argentinian tango. Thus, the evening will debut with the Melancholic Serenade, op. 26, by Tchaikovsky, followed by Variations on an original theme, op. 15 by H. Wieniawski and George Enescu's Ballad. The program will continue with Prelude and Allegro de Fr. Kreisler / Pugnani, Andalusian romance by Pablo Sarasate and Variations I Palpiti, op.13, by N. Paganini. The evening will close with Argentinian tango accords with Histoire du Tango by Astor Piazzolla.

At the end of the recital, Casa Radio Publishing House will extend the meeting with the two famous artists, organizing, in the central foyer of the Radio Concert Hall, an autograph session on the album called Virtuosity and Passion, a CD that gathers a cluster of famous songs from the violinist's repertoire composed by Paganini, Sarasate, Kreisler, Wieniawski, Ysaÿe, Pugnani, Ravel, Arvo Pärt, Ciprian Porumbescu and performed by Razvan Stoica on his famous Stradivarius violin.

The concert can be listened live on all Radio Romania Cultural and Radio Romania Music live streams in the country and streaming live on the Internet on www.radioromaniacultural.ro and www.romania-muzical.ro.

Tickets and subscriptions for the events of Radio Orchestras and Choirs will be purchased online via the www.bilete.ro network. They can also be purchased at the Radio Hall's Ticket Office and are also available at the Romanian Post Offices signaling Bilete.ro and in the Germanos and Inmedio stores, signaling Bilete.ro.

For more information on Radio Orchestras and Choirs, please visit www.orchestreradio.ro.

Translated by Mihaela Louise Ghițescu,
AN II - MTTLC