> [Archived] Events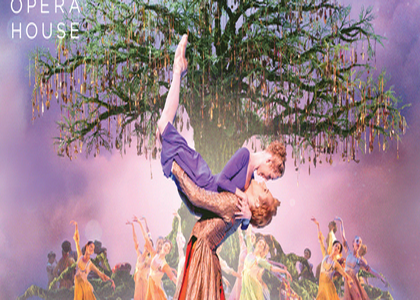 Winter's tale – a play by Shakespeare in dance steps by The Royal Ballet, on-screen from Happy Cinema Bucharest
Monday, 19 February 2018 , ora 15.02

The season Royal Ballet continues on Happy Cinema Bucharest with Winter's tale, a modern ballet loaded with emotion, romance and color, created by the choreographer Christopher Wheeldon and the composer Joby Talbot.

The show is scheduled for 4th of March, starting with 16:00 o'clock.

Christopher Wheeldon, an associated artist of The Royal Ballet, created this choreographic adaptation inspired by the tragi-comedy Winter's tale by Shakespeare. Same as the modern ballet "Alice's Adventures in Wonderland", for which he has been deeply appreciated, Winter's tale was a show greeted with enthusiasm by his public, because of its originality and its touching manner in which the story steps in time.

Joby Talbot is also a personality in the world of music, being a very versatile composer, who created scores for chorus, opera and for the soundtrack of a few movies.

The theme of the ballet is focusing on the ever-changing feelings which travel in a royal marriage marked by jealousy, but with a happy ending, with celebrations and miracles.

With an extraordinary setting by Bob Crowley, who has been awarded with 7 Tony awards throughout his career, "Winter's tale" is a ballet that cannot be forgotten, perfect for all ages.

The tickets cost 39 lei if they are bought online on www.happycinema.ro or 49 lei if they are bought from Happy Cinema Bucharest in the Liberty Center.

Schedule of the season:

The Royal Opera CARMEN - Bizet (11th of March2018)
The Royal Ballet BERNSTEIN CELEBRATION NEW McGREGOR / NEW WHEELDON / THE AGE OF ANXIETY (1st of April 2018)
The Royal Opera MACBETH - Verdi (8th of April 2018)
The Royal Ballet MACMILLAN: A NATIONAL CELEBRATION MANON - Kenneth MacMillan (6th of May 2018)
The Royal Ballet SWAN LAKE - Liam Scarlett after Petipa and Ivanov (New Production) (17th of June 2018)

Choreography: Christopher Wheeldon
Script: Christopher Wheeldon and Joby Talbot
Music: Joby Talbot
Time: 3 hours with 2 breaks
Schedule of the season:

Happy Cinema Bucharest, Șoseaua Progresului 151-171, district 5, Bucharest (inside Liberty Center, 2th floor).
More information on: https://www.happycinema.ro/or on Facebook!

Translated by Ene Bianca,
MTTLC, 1st year, University of Bucharest