> [Archived] Events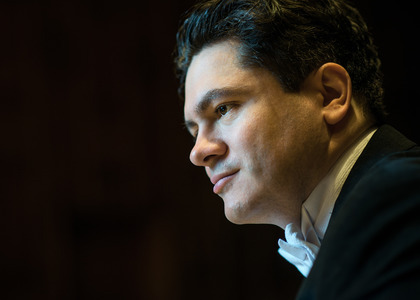 Cristian Măcelaru, again at the National Radio Orchestra
Thursday, 1 March 2018 , ora 12.18

Conductor Cristian Măcelaru, one of the highest-ranking Romanian conductors of the moment in the United States and Europe, returns to the Radio Hall Friday, March 2, from 19.00 hours, at the desk of National Radio Orchestra. The guest of the evening will be violinist Gabriel Croitoru, who will sing on the legendary violinGuarneri del Gesù, the same one with which George Enescu conquered his contemporaries. On the poster of the concert will be the Sinfonia da Requiem by B. Britten, Concerto no. 2 in D minor for violin and orchestra, op. 22, by H. Wieniawski and Variations on an Original Theme, op. 36, by E. Elgar.

With an ascendant conducting activity, Cristian Măcelaru started his career with the Philadelphia Orchestra, and during the season 2010-2011 he was appointed assistant conductor of the same orchestra and was awarded Sir Georg Solti Emerging Conductor Award for outstanding achievements. Among the events that prompted him to the attention of the international audience are the collaboration with the Washington National Symphony Orchestra and the famous violinist Anne Sophie-Mutter.

Soloist of Radio Orchestras and Choirs and professor at the National University of Music in Bucharest, with over 1.000 held concerts and recitals, Gabriel Croitoru is one of the most famous and appreciated Romanian violinists. He is the protagonist of the two radio tours organized by Radio Romania: George Enescu's Duel of Violins and Violin in villages, projects that have gained considerable public interest in recent years.

The concert can be played live on all Radio Romania Cultural and Radio Romania Music frequencies in the country and live streaming on the Internet, on www.radioromaniacultural.ro and www.romania-muzical.ro.

Tickets and subscription to the concerts of the Orchestras and Radio Choirs can be purchased online via www.bilete.ro. They can also be purchased at the Radio Hall's ticket office and are also available, in the Romanian Post offices marked Bilete.ro and in Germanos and Inmedio shops, marked Bilete.ro.

For more information on Radio Orchestras and Choirs, please consult the website www.orchestreradio.ro.

Translated by Elisabeta Motoi,
MTTLC 2nd year, University of Bucharest