> [Archived] Events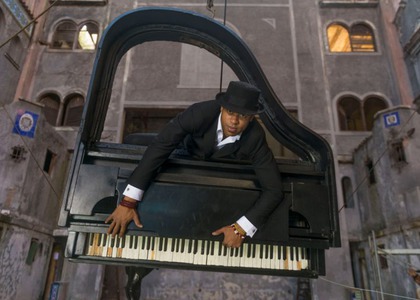 The JAZZ FESTIVAL GĂRÂNA, the 22nd edition, will take place between July 12 and 15
Wednesday, 14 March 2018 , ora 10.32

Tickets for the summer of 2018 were put on sale
Gărâna Jazz Festivalannounces the 22nd edition, which will take place from 12th to 15th of July, in Caraș-Severin County. With a growing international audience, Gârna, the village between the mountains, will host four days of concerts and musical experiences dedicated to jazz fans. Sounds, voices and instruments from Korea, Sweden, Cuba, Italy, USA, France, Israel, Germany and Norway are part of the line-up of the 22nd edition. Tickets and subscriptions can be purchased from today on www.garana-jazz.ro/bilete/ or www.bilete.ro.

A new super-group has appeared on the world stage of jazz. Three stars of Scandinavian jazz - Norwegian pianist Bugge Wesseltoft and Swedish Dan Berglund at double bass and Magnus Öström on battery - have recently laid the foundations of an outstanding trio. The Gărâna Jazz Festival has the pleasure of hosting one of the first concerts of the Rymden trio.
One of Cuba's most popular musicians and the most effervescent pianist of his generation returns to Romania with a special presence in Gărâna. Roberto Fonseca brings on stage his newest album, ABUC, exploring the origins of Cuba's jazz, "Tierra Santa". Because Fonseca's music has to be lived with the same passion it is sung, Saturday night is dedicated to contrasts - American jazz, world music, bolero and son cubano in one long awaited concert.

South Korean soloist Youn Sun Nah, unique through simplicity and improvisation, will be on stage alongside Swedish guitarist Ulf Wakenius, a former member of the Oscar Peterson Quartet. Youn Sun Nah, a voice known at all the festivals around the world, will premiere her album released in 2017, She Moves On.
An appreciated Italian pianist of the last decade, Kekko Fornarelli will be present on the Gărâna Jazz Festival stage alongside the trio members with whom he released a new album in March this year - Abaton. After the extraordinary concert hosted by Gărâna Jazz Festival 3 years ago, the organizers offer the audience another special meeting with Stefano Battaglia Trio. Pianist Stefano Battaglia, bass player Salvatore Maiore and drummer Roberto Dani manage to offer to the attendant listeners at their concerts an intense and complex experience that is hard to erase from memories. They seem to build, from one concert to another, a language of their own, marked by a strong emotional footprint and original stylistics.

The multiple award-winning of ECHO Jazz, German trumpeter and pianist Sebastian Studnitzky will present his project KY-organic to his audience from Poiana Lupului, the result of his artistic searches in recent years and the title of his latest album, released in 2017. Under the KY name, he developed during 6 years a valuable project that contains various layers and sounds as well as melodic experiments. Studnitzky combines the piano virtuosity with the sound of the trumpet, and its compositions have a shining clarity and tone while being sophisticated. Inspirational improvisations, pop indie harmonies, rhythm and romanticism, all define a distinctive style, very popular among the audience of jazz.

Three European musicians with strong and complementary personalities will play in Gărâna under the name BANDES ORIGINALES. French violinist Vincent Courtois and saxophonists Daniel Erdman (Germany) and Robin Fincker (France) bring to life the latest album, a cinematic musical experience inspired by music of the film created by them. It will be a free and rigorous journey into the world of the cinema we know, a very personal musical reverie.

The Polish violinist Adam Baldych is coming to Gărâna with Norwegian band Helge Lien Trio and saxophonist Tore Brunborg, with the new album "Brothers" meant to celebrate his brother's memory.

In the 2018 edition, the Gărâna Jazz Festival concerts will take place on three scenes: in Poiana Lupului, at the Catholic Church in Văliug village and at Inn La Răscruce, the place where the first edition of the festival took place 22 years ago. More details about accommodation, transport and the Gărâna experience are available at www.garana-jazz.ro.

The Jazz International Festival Gărâna is organized by Jazz Banat Cultural Foundation, a member of the European Jazz Network. Over the past 20 years, more than 100,000 spectators and numerous internationally renowned artists have shared the avant-garde jazz experience under the open sky in the small village in the heart of Banat. They played in Gărâna: Eberhard Weber, Jan Garbarek, Mike Stern, Tom Harrell, Charles Lloyd, Jean-Luc Ponty, Stanley Jordan, John Abercrombie, Miroslav Vitous, Zakir Hussain, Magnus Ostrom, Bugge Wesseltoft, Lars Danielsson, Avishay Cohen, Nils Petter Molvaer, Jack Dejohnette, Kimmo Pohjonen and many others. Details at www.garana-jazz.ro.

Translated by Costache Alexandra Iuliana,
MTTLC, 1st year