> [Archived] Events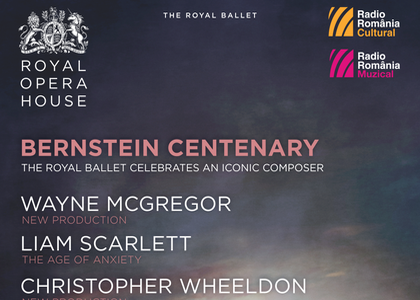 On the first and 9th of April, Bernstein Celebration and Macbeth de Verdi, Royal Opera House shows, appear to Happy Cinema in Bucharest
Monday, 19 March 2018 , ora 13.07

April begins in force for those who are in fond of music with two creative shows signed by Royal Opera House, shows which can be seen at Happy Cinema in Bucharest. The spectators will hardly remain seated at Bernstein Celebration, a show dedicated to one of the most famous American composers, who became famous for his exhilarating music with jazz notes. Macbeth de Verdi will keep the whole room into a state of suspense and admiration towards the well-known artist voices and towards the elegance of the background.

The Royal Ballet- Bernstein Celebration celebrates 100 years from the Leonard Bernstein birth, with a special program created by the choreographers Wayne McGregor, Liam Scarlet and Christopher Wheeldon. The show is booked for April, the 1st, at 16 o'clock.

Leonard Bernstein was one of the first American composers which received applause from the public, but also from the critics. Inspired by jazz and modernism, by traditional Jewish music and by the Broadway musicals, lots of Bernstein parts are very appropriate for dancing.

The program includes two world openings signed by Wayne McGregor and Christopher Wheeldon. The main content of this program will be formed also by the work of Liam Scarlet, The Age of Anxiety, made on the Bernstein's Second Symphony in 2014. The symphony and also the ballet are inspired by the W.H. Auden's modernist poem.

On April 8th, from 16 o'clock, Macbeth reunites Shakespeare's play intrigues, Verdi's music and Antonio Pappano's magic wand.

Verdi's work inspired by Shakespeare's tragedy has, in this version, a magnificent cast: Anna Netrebko, Zelijko Lucic and Ildebrando D'Arcangelo.

Macbeth, the warrior, fights together with the king of Scotland, but when several witches foretell that he will become a king, Macbeth and his wife commit terrible acts, driven by a merciless ambition.

The witches are created like some strange beings by the designer Anthony Ward, and the background reunites the opposition between red, black and the gold from the crown. Lloyd describes Macbeth's childhood as the dark sadness which lays at the bottom of his terrible acts.

Royal Opera production uses the review of Verdi's work from Paris, 1865, which includes Lady Macbeth's aria, "La luce langue".

It is sung in Italian, but has English subtitle. The tickets are 39 RON if they are bought online, on www.happycinema.ro, or 49 RON if they are bought from Happy Cinema Bucharest in Liberty Center.

The program of the season:
The Royal Ballet MACMILLAN: A NATIONAL CELEBRATION MANON - Kenneth MacMillan (May, 6th 2018)

The Royal Ballet SWAN LAKE - Liam Scarlett after Petipa and Ivanov (New Production) (June, 17th 2018)

Translated by Cojocaru Bianca Nicoleta,
University of Bucharest, MTTLC, 1 year