> [Archived] Events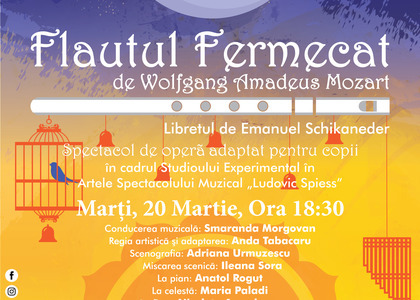 Children's show "The Enchanted Flute" by W.A. Mozart makes its comeback at the National Opera of Bucharest
Wednesday, 21 March 2018 , ora 13.45

The Experimental Studio in Music Show's Arts "Ludovic Spiess" of the National Opera of Bucharest restarts its activity after five years, by presenting a remake of the show "The Enchanted Flute" by W. A. Mozart, which received in 2012 the Prize for the best show - opera category, the Prize for artistic direction, the Prize for the main feminine character, the Prize for the main masculine character in the VIP Prize Gala of the Children Music Show's Arts.
Representations will take place on Tuesday, March 20, 2018, 18:30 p.m. and on Sunday, March 25, 2018, starting with 11:00.
Mozart's masterpiece was adapted for children, the subject of the opera being interpreted due to its originality and enchanting music, like a fairytale full of lessons which carry fights between truth and lie, courage and cowardy, dark and light, friendship and betrayal.
The distribution consists in very young lyrical artists selected in the Experimental Studio "Ludovic Spiess" - Samuel Alper, Andreea Bălan, Dominic Cristea, Florin Mircea Ganea, Irina Ionescu, Ștefan Lamatic, Paul Lungu, Alexandra Moroiu, Ciprian Pahonea, Mădălina Radu, Cosmina Stancu, Amelia Stoicescu, Rodica Ștefan, Daniel Trandafir, Alin Trifu, Ligia Tiponuț, Amaia Arrieta Vargas, Cristina Vasilache.
The show creators - Anda Tabacaru - director, Smaranda Morgovan - music leader, Adriana Urmuzescu - scenographer - invite little spectators in a fascinating world full of colour, with characters they will love for sure. Mozart's lovely music and the inspirational tunes will join them in this wonderful story - Anatol Rogut at the piano, Nicoleta Amzulescu with the flute, Maria Paladi with the celesta. The participation of National Opera of Bucharest's children choir will bring the undiscovered in the development of the action, permanently accompanying the opera's characters - the scenical movement being guaranteed by Ileana Sora.
The opera in two acts "The Enchanted Flute" had its opening in Wien, at Freihaustheater, a popular theatre, in 1791. Emanuel Schikaneder's libretto was inspired by the story "Lulu" of Liebeskind, published in the collection of oriental stories Dschinnistan in 1786. The opera is considered to be the best creation of the singspiel genre, a comical opera of German origin which instead of recitative (singing dialogue) uses the spoken dialogue. "The Enchanted Flute" is one of the most appreciated and performed operas of the world. The first assembly was directed and conducted by the composer himself and had a reverberating success. The author of the libretto was interpreting the role of Papageno. In 1792, a year since the absolute premiere, but also since Mozart's death, 100 representations were already being celebrated.
Tickets can be found at http://tickets.operanb.ro/ and at the National Opera of Bucharest's ticket office.

Translated by Andreea-Gabriela Orășanu,
MTTLC, an I