> [Archived] Events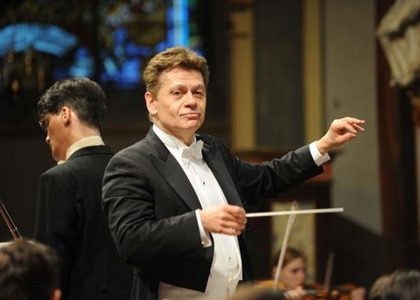 Two weeks with Christian Badea at the George Enescu Philharmonic
Wednesday, 18 April 2018 , ora 12.11

Maestro Christian Badea, an internationally acclaimed Romanian artist, has an impressive career at some of the most prestigious concert halls and opera houses in Europe, North America, Asia, and Australia. Christian Badea has been the principal conductor of the George Enescu Philharmonic Orchestra since 2012, and he now returns to Bucharest with two exceptional concerts, scheduled consecutively on 19, 20 and 26 April 2018, respectively.

"During the first week, on April 19 and 20, the audience will have the chance to listen to two great works, Beethoven's Emperor Concerto - one of the most important piano concertos, and Rachmaninoff's Symphony No. 2 - another masterpiece of the romantic style that is very appreciated. The soloist will be pianist Luiza Borac, "says conductor Christian Badea.

On April 26 and 27, the schedule of the George Enescu Philharmonic Orchestra will include works by Joseph Haydn - Te Deum for the Empress Marie Therese, Wolfgang Amadeus Mozart's Horn Concerto No. 4 in E-flat major, KV. 495, and An Alpine Symphony by Richard Strauss. The soloist will be the renowned horn player, Martin Owen, and the "George Enescu" Philharmonic Choir will be led by Iosif Ion Prunner.

''Mozart's Horn Concerto no. 4 is probably the most beautiful concerto he composed for this instrument. We are fortunate to collaborate with one of the most important musicians of our time, British horn player Martin Owen, former soloist of the Berlin Philharmonic, section leader of the BBC Symphony Orchestra in London for many years and horn teacher at the Royal Academy in London. He has performed several times in Romania, he played Richard Strauss's Horn Concerto no. 1 alongside the George Enescu" Philharmonic Orchestra and we also collaborated on projects initiated by the Romanian Foundation for Excellence in Music. In the second part of the concert organized on April 26 and 27 we will listen to An Alpine Symphony by Richard Strauss which is a difficult and complex work, but at the same time both lyrical and dramatic and which will be interpreted by a very big orchestra. Soloist Martin Owen will join the Philharmonic Orchestra as section leader during the performance of the Alpine Symphony", emphasizes Christian Badea

Symphonic concert
Thursday, 19 and Friday, 20 April 2018, 19:00 - 21:00
Grand Hall

"George Enescu" Philharmonic Orchestra

Conductor: Christian Badea
Soloist: Luiza Borac

Schedule:

Ludwig van Beethoven
Piano Concerto no. 5 in E-flat major, op. 73
Sergei Rachmaninoff
Symphony No. 2 in E minor, Op. 27

Symphonic concert
Thursday, 26 and Friday, 27 April 2018, 19:00 - 21:00
Grand Hall

"George Enescu" Philharmonic Orchestra

Conductor: Christian Badea

Schedule:

Joseph Haydn
Te Deum for the Empress Marie Therese
Wolfgang Amadeus Mozart
Horn Concerto No. 4 in E-flat major, KV. 495
Soloist: Martin Owen
Richard Strauss
An Alpine Symphony

Choir conductor: Iosif Ion Prunner

Translated by Denisse Grigore,
MTTLC, the University of Bucharest;
Proof: Ioan-Valeriu Enache, MTTLC 2