> [Archived] Events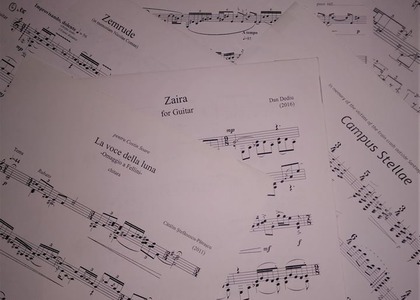 Kitharalogos Cultural Association launches the Kitharalogos Stock Exchange
Thursday, 19 April 2018 , ora 15.52

Kitharalogos Cultural Associationlaunches the Kitharalogos Bursa, which aims to promote contemporary Romanian music and to support young Romanian performers who are preparing for a musical career.

This will come off as an online contest and will be addressed to all the Romanian guitarists born after 01.01.1993: the period is 15 April - 15 October 2018. The value of the scholarship is 2500 RON gross, donation made by guitarist Pablo Marquez to the foundation, on the occasion of the seventh edition of the Guitar Evening International Festival.

The program must contain a work written by a Romanian composer for the "Musica ..." from the project of the International Festival called Guitar Evening (see list below) and another work out of choice, with a duration of 3-7 minutes that will be posted online on the foundation's webpage.

The jury, made up of personalities of the Romanian musical life, consists of: prof. dr. Constantin Andrei (Academy of Music "Gheorghe Dima" from Cluj-Napoca), conf. univ. Dr. Cătălin Ștefănescu-Patrascu (National University of Music in Bucharest), lecturer. Dr. Daniel Dragomirescu ("George Enescu" University of Arts, Iasi), lecturer univ. Prof. Gabriel Mălăncioiu (Faculty of Music, West University, Timișoara), lecturer. Dr. Gabriel Almași (Faculty of Music, Western University, Timișoara).
Following the judging, the recordings of the first three will be sent to Pablo Marquez, a concert guitarist and professor at the Musik-Akademie of Basel, the one who donated the money for this scholarship and whowill decide the winner of the contest.

For those interested (whether they enter for the contest or just want to see the scores), the works of the Romanian composers can be sent by email at kithara.logos@gmail.com. The list of papers is as follows:

Dan Dediu - Zaira or Zemrude (from the "Invisible Cities" cycle)
Carmen Cărneci - Origami Orientalis
Cătălin Ștefănescu-Patrascu - Voice of the Moon or two works from the "Invisible Cities" (Laudomia, Pentesilea, Perinzia)
Gabriel Almași - Suspin
Gabriel Mălăncioiu - Badriya or Stellae Campus
Sebastian Androne - Improvisation

Translated by Denisse Grigore MTTLC, An II;
Proofreading/Editing: Mihaela Ghitescu MTTLC, An II