> [Archived] Events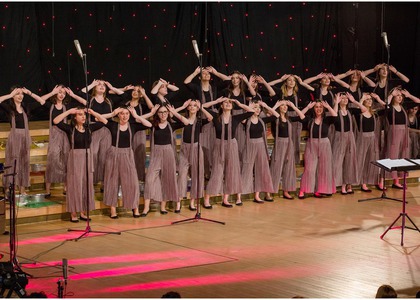 The Sound of... Musical with Radio Children's Choir takes place again at the request of the public
Tuesday, 24 April 2018 , ora 10.54

Saturday, 21th of April, 7 PM, the Radio Children's Choir concert entitled The Sound of...Musical takes place again at Radio Hall at the request of the public. The choir's conductors are Voicu Popescu assisted by Răzvan Rădos. The main theme of the concert is the musical repertoire adapted for a children's choir. Delia Nartea will present the performance while pianist Magdalena Faur will be playing the accompaniment. Stage movement by Mara Lăcătuș and Oana Necea. The first concert saw never-ending ovations, and this was the reason why the organizers decided to reschedule the performance.

It wasn't easy to decide upon only a few of the popular musical pieces which ranged from the classics such as Porgy and Bess (1935) by George Gershwin or The Sound of Music (1965) by Richard Rodger all the way to Veronica (1972) by Temistocle Popa or the more recent The Greatest Showman (2017) by Benj Pasek/Justin Paul. The Radio Children's Choir will sing the most important pieces which appeared in musicals such as West Side Story by Leonard Bernstein (1957), Mary Poppins (1964) by Richard M. & Robert B. Sherman, Buch Cassidy and Sundance Kid (1969) by Hal David, Burt Bacharach, The Phantom of the Opera (1986) by Andrew Lloyd Webber, Sister Act (1992) by Marc Shaiman/Traditional - Medley, Chicago (2002) by John Kander, Pich Perfect 2 (2015) by A.P. Carter, L. Gerstein, H. Tunstall-Behens.

With dozens of participations at festivals, artistic tours, and international competitions all over Europe, Japan, SUA and Canada, the Radio Children's Choir, which will soon turn 75, received various awards and prizes. In 2004, European Coral Federation named the choir the Cultural Ambassador of the European Union.

Beside numerous a cappella performances and invitations to several events and festivals across the country, the Radio Children's Choir participated in many festivals or vocal-symphonic events in the country or abroad. Last year, the Radio Children's Choir appeared next to the London Philharmonic Orchestra and the George Enescu Philharmonic Orchestra in Bucharest at the George Enescu Festival and in London, on the stage of Royal Festival Hall in Oedipe by George Enescu. In the same year, the Radio Children's Choir appeared in the opera Parsifal by Wagner at Romanian Athenaeum. In 2016, the Radio Children's Choir took the stage at the RadiRo Festival, next to the National Radio Orchestra and Academic Choir, in an amazing performance with Carmina Burana by Carl Orff at Radio Hall.

Tickets and subscriptions for the events of the National Radio Orchestra and Academic Choir can be bought on-line at www.bilete.ro or at the Radio Hall box-office; they are also available at Romanian Post Office bearing the sign Bilete.ro and at Germanos and Immedio stores bearing the sing Bilete.ro.

Other information about the National Radio Orchestra and the Academic Choir at www.orchestreradio.ro.

Translated by Ene Bianca,
MTTLC, 1st year, University of Bucharest;
Proof: Ioan-Valeriu Enache, MTTLC 2