> [Archived] Events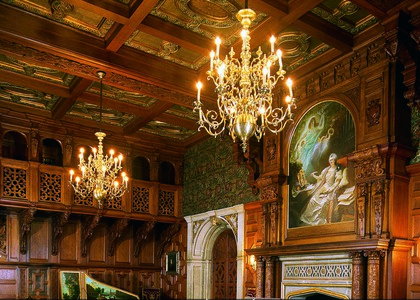 KOUYOU - The Sounds of Japanese Autumn, Closing the Season at Peles Castle
Monday, 29 October 2018 , ora 9.54

The tenth edition of The Sound of Music, an event organized by the Peles National Museum and the Romanian Musicians' Union of Creative Interpretation, will close with a special event in the concert hall of Peles Castle.
Saturday, the 27th of October 2018 at 4 p.m., the winners of the Romania international music competition in Tokyo, organized by the Romanian Music Society in Japan, will play a particularly spectacular program for the music lovers among us. Marimba player Chiyuki Funakoshi and soprano Mayuko Komori, along with the pianist Mihai Murariu, will perform opuses by Japanese composers, such as: Takatsugu Muramatsu, Kazunori Miyake, Tatsunosuke Koshitani , as well as compositions by the titans of European music: Johann Sebastian Bach, Vincenzo Bellini, Giacomo Puccini.
The event is part of the ambitious project 100 Years in 100 Concerts organized by the Romanian Musicians' Union of Creative Interpretation, with the support of the Romanian Ministry of Culture and National Identity and the Administration of the National Cultural Fund.
Admission is by invitation only, which can be obtained via e-mail at this address: peles.ro@gmail.com.
Chiyuki Funakoshi began studying the marimba at the age of 12 under Koya Nakatani and Yumiko Watanabe. In 2015, she won the gold medal as well as the third place at the Snaredrum Solo Competition for juniors and seniors. She won first place and the Grand Prix on the 13th edition of the International Contest Romania. Nowadays she is a student at the Musashino Academy in Tokyo where she received the 2018 scholarship In memoriam Naoaki Fukui, and gained a coveted spot in the Musashino Ensemble.
Mayuko Komori graduated from Music College of Osaka, and at the 21st edition of the Japan Song Competition, won the first place and the Fumiko Yotsuya Prize. She was awarded the third place for canto at the 13th edition of the International Contest Romania in Tokyo.
Mihai Murariu is a pianist, organist, composer, doctor of music, as well as a member of the teaching staff at the National University of Music in Bucharest.

Translated by PROCA Florin, MTTLC , 2nd year