> [Archived] Events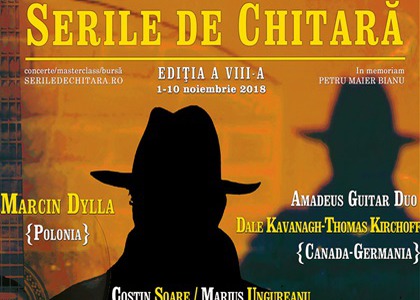 The 8th Edition of the International Festival "Guitar Evenings", Will Take Place Between the 1st and 10th of November 2018
Friday, 2 November 2018 , ora 11.03

Thursday, the 1st of November, marks the beginning of the eighth edition of the International Festival "Guitar Evenings", an edition dedicated to the beloved memory of Petru Maier BIanu, filmmaker and writer, who initiated the ACCUMM foundation during the first edition of this event as part of the "Iosif Sava" season in 2008, along with Costin Soare. The opening concert, scheduled to begin at 18:00 at the Cantacuzino Palace Auditorium (George Enescu National Museum), named "Musica della Memoria", brings together two interpreters who knew the author of the novel "Winter Inventory", violinist Marius Ungureanu, as well as the guitarist Costin Soare. They will debut six pieces written by some of the most famous Romanian composers, accompanied by a special video montage made by Florin Paraschiv.

The six concert program, sponsored by the Kitharalogos Cultural Association, will give the public of Bucharest the opportunity to listen to works such as: the famous Ciacona by Johann Sebastian Bach, arranged for two guitars and performed by the internationally acclaimed Amadeus Guitar Duo, formed in 1991 by Dale Kavanagh (Canada) and Thomas Kirchoff (Germany); Benjamin Britten's Nocturne, Op. 70, a true milestone in modern guitar history, played by one of the world's most prestigious guitarists, Marcin Dylla (from Poland); and Romanian Christmas Carols, Sz.57 by Bela Bartok, in a spectacular interpretation for two 8-string guitars by the Duo Iancu-Lobont.
Furthermore, same as every year, the youngest guitarists will perform a recital at the Sutu Palace - the "Extraordinary Gala of New Guitarists" - in which the winner of the Kitharalogos Scholarship will be announced. The scholarship, worth 2500 RON (in addition to a scholarship of 2000 RON at the Icon Arts Transilvania 2019 festival), is offered by the Argentinian guitarist Pablo Marquez. This scholarship is the result of a unique project in our country: the first online contest for young guitarists under the age of 26, which puts contemporary Romanian guitar music at the forefront. Moreover, Nagy Marton and SzalaiLotti, two young valued guitarists from the Budapest Music Academy "Franz Liszt", winners of important national and international competitions, will perform a recital of duets and solo works at the Hungarian Institute in Bucharest - the Balassi Institute.

Five masterclasses dedicated to students at the Balassi Institute and at the Dinu Lipatti National High School of Arts will also take place during the festival.
Gabriela Florea, MTTLC, first year