> [Archived] Events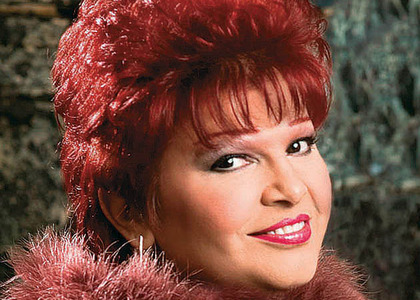 Aura Urziceanu and Three European Jazz Bands Will Perform at RadiRo, the Only Festival in the World Devoted to Radio Orchestras!
Monday, 12 November 2018 , ora 10.14

Aura Urziceanu and three European jazz bands - Danish Radio Big Band (from Denmark), a Grammy winner, Croatian Radiotelevision Jazz Orchestra, one of the oldest big band orchestras in the world, and the Radio Romania Big Band, recently performed at the Golden Stag Festival 2018 - bring quality jazz to Bucharest.
The fourth edition of RadiRo - the only festival in the world devoted to radio orchestras, a biennial event organized and produced by Radio Romania on November 18-25 presents to its audience for the first time a jazz selection, in addition to the symphonic concerts offered. Between the 21st and the 24th of November, 4 jazz concerts will be hosted in Sala Auditorium at the National Museum of Art of Romania (MNAR), while the symphonic concerts will take place in Sala Radio.
The jazz events will start Wednesday, November 21st (at 7.00 p.m.), with the widely acclaimed jazz singer Aura Urziceanu (who now resides in Canada), invited by the RadiRo festival, performing in Romania again after a long absence! Since the event with the Radio Big Band (conductor: Ionel Tudor) is already sold-out, there will be another show on Saturday, November 24th (at 7.00 p.m.).
Aura Urziceanu's career is a mix of various genres: from pop to folklore, from classical music to jazz, including live concerts and television shows. She toured in the U.S., Brazil, Japan, Australia and Europe, performing with great American musicians and instrumentalists like Duke Ellington, Quincy Jones, Thad Jones & Mel Lewis Orchestra, Dizzy Gillespie, Art Blakey, Horace Silver, Clark Terry, Stan Gets. The Radio Big Band is currently led by universally acclaimed composer, conductor, and prize-winning orchestrator Ionel Tudor. One of his greatest achievements is winning 8th-9th place at the 2002 Eurovision competition, representing Romania (with the song "Tell Me Why" performed by Monica Anghel and Marcel Pavel).
Thursday, November 22nd (at 7.00 p.m.) - Croatian Radiotelevision Jazz Orchestra, one of the oldest big bands in the world, with a history of over 70 years, will perform in Sala Auditorium - MNAR. Besides the numerous public concerts and independent events performed in Croatia and abroad, since 2000 the band has its own concert season, broadcast on Channel 3 in Croatia.
Jazz lovers will be able to see Miron Hauser as a trombone soloist, conductor and composer. Since 2011 he is a regular member of the Croatian Radiotelevision Jazz Orchestra and of the Jazzistra Orchestra. His musical project, Tu fragrancia, was featured in Croatia, Italy (Muggia Jazz Festival), and Slovenia, in collaboration with the Ljubljana Radiotelevision Big Band.
Friday, November 23rd (at 7.00 p.m.) - Danish Radio Big Band (from Denmark) will perform for the Romanian public! Danish-American percussionist Marilyn Mazur will perform for the first time together with the Grammy winner Danish Radio Big Band, mixing energy and inventiveness. The public will be able to enjoy a flow of rhythm and sound, conducted by the Japanese conductor Miho Hazama, who also conducted the band during the opening night at the Tokyo Jazz Festival last summer.
Composer and percussionist Marilyn Mazur is famous not only in her homeland, but also on the international jazz stage. She performed together with Miles Davis, Jan Garbarek and Wayne Shorter, while in Denmark she is appreciated for her lengthy collaborations with jazz legends NHØP and Palle Mikkelborg. As a unique addition to this performance, the band chose some of the most beloved compositions by Marilyn Mazur, and also convinced her to write a new piece specially for this concert.
Born in Tokyo, Miho Hazama is one of the most talented young pianists, who actively performs on the New York stage. Miho has 2 albums released by Universal Music Japan / Sunnyside Records, which are greatly appreciated by critics and the public alike. Still, her true calling is musical composition, and, while performing with m_unit, her signature breakthrough ensemble, she also composed pieces for other ensembles, like the Tokyo Philharmonic Orchestra, Nobuya Sugawa, Ashley Bouder Ballet Company, and Yamaha Symphonic Band. She is currently the artistic associate manager at the New York Jazzharmonic.
All the concerts performed during the festival will be live streamed by Radio Romania; the recordings will be later broadcast by the Romanian National Television, as well as by other radio stations that are members of the European Radio Network.
For additional information on the RadiRo festival 2018 please follow the link: www.radirofestival.ro.

Translated by Alina-Nicoleta Duminică,
MTTLC 1, Universitatea din București