> [Archived] Events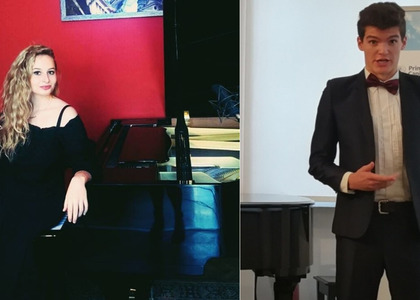 The Gala for the Laureates of the "Road to Celebrity" Contest at the National Library
Tuesday, 4 December 2018 , ora 9.57

The second edition of the Collection Seasons ("Stagiunii de colecție"), part of the ambitious project 100 Years in 100 Concerts organised by The Union of the Romanian Musicians of Interpretative Creations, with the help of the Ministry of Culture and National Identity, and from the Administration of the National and Cultural Field, will end on Monday, 26th of November, 2018, in the Atrium chamber of the National Library Of Romania (Bd. Unirii Nr. 22).
The last recital, beginning at 17:30, will feature four of the best musicians, recently remarked on the 19th edition "Road to Celebrity" contest, at the Mogosoaia Palace.
This gala of young talent will showcase the pianist Andra Maria Mãrgineanu - Gavrilescu- and the baritone Juhász-Boylan Pál-Károly, winners of "The Road to Celebrity", but also the trumpeter Radu Mihai Ghebaurã and the pianist Ștefan Pretuleac, the runners-up at the aforementioned competition.
They will perform opuses by Jules Levy, Frederic Chopin, Wolfgang Amadeus Mozart, Adrian Pop and Claude Debussy.
In addition to the concert, there will also be an exposition of some remarkable imprints in the adjacent hall. The exposition will feature a reproduction of Étude No.3, op. 10 by Frederic Chopin, on loan from "Robert Owen Lehman Foundation", copied from Alfred Cortot's original; a study edition of the Sonates arranged by Cortot, on loan from the "Maurice Senart" publishing house; facsimiles of The Ballades, belonging to "The Chopin Institute", with the signature and portrait of the composer; 12 Études by Claude Debussy, released in 1904 by Durand & Fils publishing house, with an introduction by the composer; and the piano adaptation of the opera "Don Giovanni" by Mozart and the Romanian version, revised by Alfred Alessandrescu in 1936.
Raluca Bucinschi și Sebastian Crãciun will be there to guide visitors between the manuscripts, imprints and artists.

Translated by Filipov Madalina, MTTLC, 2nd year