> [Archived] Events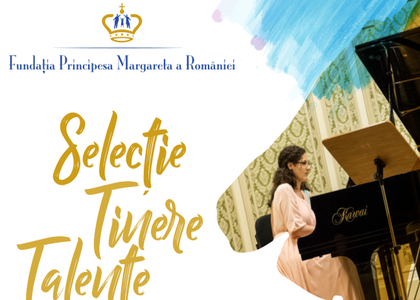 The Princess Margareta of Romania Foundation launches the selection for Scholarships and for the 2019 Young Talents program
Monday, 10 December 2018 , ora 11.20

The Young Talents national program is opening its doors to new talented musicians and visual artists in Romania. The applicants must be between the ages of 14 and 24, and attend a music or visual arts high school or university in Romania. The application for the selection process must be sent by email or by post, until the 18th of December 2018.

After 10 years of affirming its value, the program provides young artists who are just starting out with new opportunities: the Young Talents Scholarships and the Young Talents Academy. Details for each category of participants are available at www.tineretalente.org

A prestigious, specialized jury will evaluate the applicants based on talent and artistic potential. Beginning with February 2019, the scholarship recipients and participants will enjoy a complex program designed for their artistic development, including mentoring sessions, masterclasses and workshops guided by appreciated cultural figures, along with promoting their work through concerts, exhibitions and various events.

Young Talents Scholarships are aimed at young artists coming from underprivileged families, who are enrolled in national high schools or universities, focusing on the fields of music or visual arts. The scholarships, worth up to 2000 euros, are granted for the period of one calendar year to allow young people to purchase materials and instruments, and to take part in contests, concerts, exhibitions and specialized training, in Romania and abroad.

The Young Talents Academy is a new channel of non-formal education for musicians and visual artists who want to enjoy everything the program has to offer, for a fee. The Academy is aimed at the participants who possess the financial means to develop themselves artistically. It provides them with access to two components: the educational one, through mentoring, masterclasses and workshops, and a promoting component, through the events of the Young Talents program.

Young Talents has been acknowledged as the best arts and culture program at the Civil Society Gala, and is regarded by specialists as a program that secures the cultural future of Romania. For many talented young people, the program was a stepping-stone in their evolution, a leap towards excellence, which would have been almost impossible to achieve without expert support. The 300 scholarships provided for the past ten years have represented a springboard for artists who are now valuable cultural ambassadors of our country.

Partners: BRD Groupe Société Générale, Kaufland Romania. Sponsors: Groupe Renault, SofMedica, Kultho, Deutek, Negro Romania, Intermedicas, Residence Hotels, Hotel Siqua, Star Storage, Film Experience.

Translated by Mãdãlina Grosoiu, MTTLC I