> [Archived] Events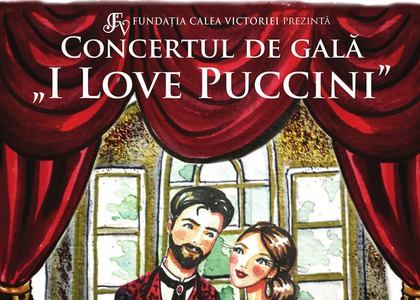 The 'I love PUCCINI' Gala Concert
Thursday, 21 March 2019 , ora 13.44

The Calea Victoriei Foundation invites you on the 13th of May at 19:00 to the "I love PUCCINI" Gala Concert. The concert will take place in the Grand Hall at the Bucharest National Theatre.
The talented conductor Tiberiu Soare and the Symphactory Orchestra will host two outstanding opera singers - soprano Diana Țugui and tenor Florin Guzgă.
Audiences of all ages are invited to enjoy the spectacular duets by Giacomo Puccini, the last great Italian opera composer known for his great musical masterpieces full of sensitivity and originality such as La Boheme, Tosca, Madame Butterfly, Turandot.
"Puccini can be considered a keystone of Italian opera, much like Bach is the keystone and shutter of what baroque music meant," says conductor Tiberiu Soare in his book about opera. On the 13th of May, we invite you to taste the beauty of the music of this remarkable composer.
At the end of the concert, the audience will have the opportunity to meet the conductor and the two soloists in the foyer. They will also be able to take pictures and share impressions of the concert. Also, Tiberiu Soare will give autographs on his books: "Why Do We Go to the Opera" and "Nine Musical Stories".
The "I love PUCCINI" Gala Concert is the fourth event of "I Love Classics" series, launched by the Calea Victoriei Foundation and dedicated to the great composers of classical and opera music. The first three editions were dedicated to W. Mozart, G. Verdi and P. I. Ceaikovski.
The tickets for "I love PUCCINI" Gala Concert can be purchased via the Eventim network: Vodafone, Orange, Germanos, Carrefour, Carturesti and Humanitas, OMV or online.

Translated by Gabriela Florea,
MTTLC, Ist year, University of Bucharest