> [Archived] Events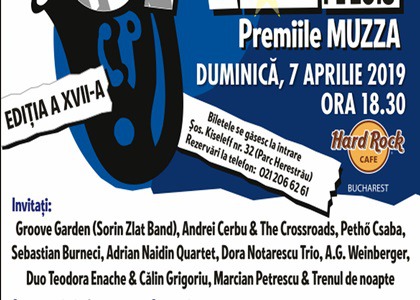 The Jazz Gala Awards – The MUZZA Awards
Thursday, 28 March 2019 , ora 10.02

On April 7th 2019, at 6:30 p.m., Hard Rock Cafe will be hosting the 2019 Jazz Gala Awards, an event organized by the MUZZA Foundation and the Romanian Cultural Institute. The Gala reached its seventh edition and it is the most important jazz event of the year. For this jazz community, that wants to highlight the most memorable moments and award the best 2018 performances, this milestone is worth celebrating.
This year's Gala guest-list will be comprised of experienced musicians such as Teodora Enache, Adrian Naidin, Sorin Zlat, A. G. Weinberger and Sebastian Burneci, the sensational fusion band GROOVE GARDEN (with vocalist Robert Patai); but also young artists who have recently won competitions: Andrei Cerbu & The Crossroads, Petho Csaba and Dora Notarescu; and the experimental blues band "TRENUL DE NOAPTE" (The Night Train) with its unrivalled vocalist and harmonica player Marcian Petrescu, who needs no further introduction as he is already an audience-favourite.
There will also be surprise guests.
The list of nominees and laureates was made by prestigious journalists, namely Anca Romeci, Olivia Cristina Sima, Andi Enache and Alex Revenco.
All the awarded musicians will perform micro-recitals to the delight of blues and jazz lovers.
The Gala was made possible thanks to institutions, sponsors, media partners, musicians and friends, who all share their passion for jazz music.
The event is produced and hosted by musicologist Alexandru Sipa, head of the jury.
The early bird ticket price for this event is 40-60 lei, and 50-70 lei at the entrance on the day of the event. Tickets can also be found online on iabilet.ro
Reservations can be made on the following phone number: 021-2066261
More details at www.fundatiamuzza.ro

Translated by Alexandra Simona Ivan,
MTTLC, 1st year, University of Bucharest