> [Archived] Events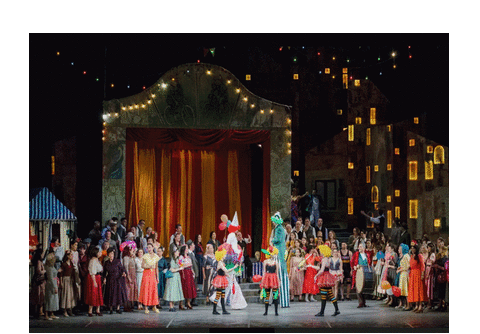 Daniel Stoica and Francesco Anile: The National Opera's special guests who bring Turiddu and Canio to life
Thursday, 10 October 2019 , ora 14.01

Daniel Stoica and Francesco Anile: The National Opera's special guests who bring Turiddu and Canio to life.
The Bucharest National Opera House will be hosting on 12th of October 2019 at 6:30 p.m Pietro Mascagni's and Ruggero Leoncavallo's "CavalleriaRusticana&Pagliacci". The producer is Ion Caramitru, the scenographer is Viorica Petrovici and the light design concept was created by Chris Jaeger. Maestro Vlad Conta will be on the conductor's podium. The Bucharest National Opera House's Choir will be lead by Daniel Jinga.
For this performance, producer Ion Caramitru comes with a new perspective where both plots deal with the jealousy that is in our human nature as well as its consequences which are transposed on stage with stark realism, as the producer himself declares:
"In those classical performances that arefully dependent on musical perfection (notes, rhythm, arias, ballet, choir) there is a very generous space that allows this sort of magic realism to coexist. The better the convention, the greater the liberty. It is all about realism, from start to finish. Don't let yourselves fooled by the illusion of the artist's art. Cavalleria Rusticana's décor is in black and white while Pagliacci's full of colors; they bothshare costumes, the stage itself and a tangible décor and hide the same secret: a love crime.
Being one of the most acclaimed veristic pieces, it is self-explanatory why "Cavalleria Rusticana" is performed world-wide, on every theatre stage. Its glorious resonance is justified by the composer's inspiration and creativity when he chose the literary text, its musical correspondent, the representative images and the ferventmusicality, which is a characteristic of the Italian spirit.
"Pagliacci" is a two act play composed by Ruggero Leoncavallo and with a self-written libretto. It is one of the plays that is featured in every lyric theatre.
Both plays depict the modest, working class from Southern Italy on a Roman-Catholic holy day, focusing on love triangles that end violently. The frank, intense, rapid and sharp musical language of those thrilling stories about ordinary people represents the beginning of the verismo operatic tradition.
Tickets can be found on http://tickets.operanb.ro/ and at the Bucharest National Opera's box office (opened Monday to Sunday between 10:00 AM - 1:00 PM and 2:00 PM - 7:00 PM).

Translated by Alexandra Simona Ivan