> [Archived] Events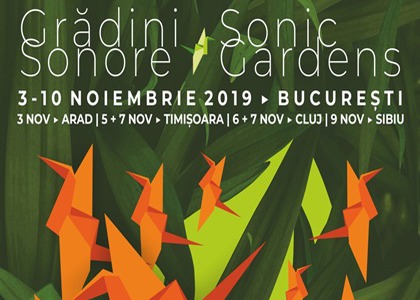 "Sonic Gardens", the 15th edition of the Meridian International New Music Festival, from 3rd -10th November, 2019
Wednesday, 16 October 2019 , ora 15.27

"...a garden is nature expressed in mathematics and music is emotion expressed in mathematics." - Krzysztof Penderecki, composer.
The 15th edition of the Meridian Festival, one of the most important new music festivals in the country, awaits you to enter into a world of experiences and musical experiments, with open heart, mind and ears, between the 3rd and the 10th of November, 2019. Chamber and electronic concerts, discussions, and projections, with Romanian artists, along with guests from Sweden, Italy, Austria, Poland, and Denmark will be taking place in Bucharest, Arad, Cluj, Timișoara, and Sibiu, during the eight days of the Festival. Starting from the Festival's theme - Sonic Gardens - each performance will follow the model of a real or imaginary garden. Such concepts like: Wild Garden, Labyrinth Garden, Electronic Jungle, Fog Garden, or Zen Garden are just a few of them, offered by the Meridian Festival.
"A microcosm, an oasis, an invitation, a mystery, wild blossoming, color explosion, labyrinthian paths, instrumental theatre, a refined layout, an electronic jungle, Zen, multimedia, chamber music, puzzle, a mixture of styles, arabesques, a ritual, blue velvet, echoes, a dance, a nightmare, surrealism, contrasts, sonic delights: The Meridian Garden awaits your footsteps", Diana Rotaru, artistic director.
Artists like: the great Italian flautist Mario Caroli, Swedish experimental violinist George Kentros, the charismatic Viennese duo Matei Ioachimescu (flute) and Alfredo Ovalles (piano), the expressive American duo Luosha Fang (violin/viola) and Michael Djupstrom (piano), the explosive contrabass player Aleksander Gabrys (Poland), and the virtuoso violinist Marius Ungureanu (Denmark), are all guests at Sonic Gardens, alongside local reputed musicians.
"A metaphor is the "tool" of an artist. By means of metaphor, the artist inserts some figments of imagination, which we need without acknowledging it. The "garden" metaphor includes both the process and the result of a delicate transformational act. Gardens of styles, ideas, expectations, questions, and challenges. Familiar or unknown gardens. These are the territories to explore in the 15th edition of the Meridian Festival", Irinel Anghel, artistic consultant.

The entrance is free to all the events, the exception being the concerts, which are included in the philharmonics' seasons. The venues of the festival are: Cantacuzino Palace, National University of Music, Romanian Athenaeum, and Casa Artelor "Dinu Lipatti" in Bucharest; The "Gheorghe Dima" Music Academy in Cluj; Arad State Philharmonic in Arad; The Faculty of Music and Theatre, and Central University Library"Eugen Todoran"in Timișoara, and "Astra" County Library in Sibiu.

Translated by Cotar Alexandr, Universitatea din București,
Facultatea de Limbi și Literaturi Străine, MTTLC I