> [Archived] Events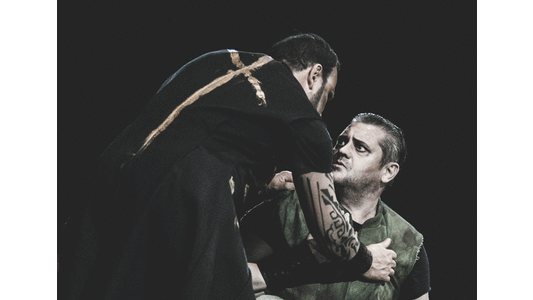 Francesco Anile, a guest for the show "Otello" performed on the stage of the Romanian National Opera, Bucharest
Thursday, 24 October 2019 , ora 14.51

The artistic production, the scenery, and the stage lighting - all belong to the grandmaster Giancarlo del Monaco
On Sunday, the 27th of October 2019, at 6:30p.m., The Bucharest National Opera House is presenting the show "Otello" by Giuseppe Verdi. The artistic production, the scenery, and the stage lighting - all belong to the grandmaster Giancarlo del Monaco, and the costumes are made by Stella del Monaco. The conductor will be the maestro TiberiuSoare. The chorus of the Bucharest National Opera Housewas trained by Daniel Jinga.
In this representation, the audience will have the opportunity to observe the tenor Francesco Anile in the role of Otello, as a guest of the Bucharest National Opera House.
Verdi's creation wonderfully shapes a perfect combination of drama and music. Throughout the centuries, "Otello" proved to be a masterpiece that succeeded in pointing out itself not only through its philosophical symbols but also through the thrilling and powerful feelings that the characters had to experience, from the theatrical point of view.
The stage director Giancarlo del Monaco, talking about the mounting of the stage of the Bucharest National Opera House: "I'm performing a minimalist scenographic study, meaning that the spaces are not defined anymore by a primitive realism representing Cyprus, which could represent Venice and everything about it. This is a research that wants to sublimate the souls of the characters, which is much more important than telling a story. It is necessary to shape human situations, very difficult ones, complicated ones, like jealousy, racism, the bad, the good... For example, the bad and the good confront each other in this artwork through Desdemona and Iago, don't they? Otello is a victim, a victim of the bad. Desdemona may also be called a victim of the bad, though the confrontation between the two is represented by Iago-Desdemona. This showdown is meant to direct the audience's attention to the scenic action and the drama, mainly tothe psycho-drama of this story.
The tickets can be bought on http://tickets.operanb.ro and at the ticket office of the Bucharest National Opera House (working hours: Monday-Sunday, 10a.m-1p.m and 2p.m-7p.m).

Translated by Mihaela Guțu, Universitatea din Bucuresti,
Facultatea de Limbi și Literaturi Străine, MTTLC Anul I