> [Archived] Events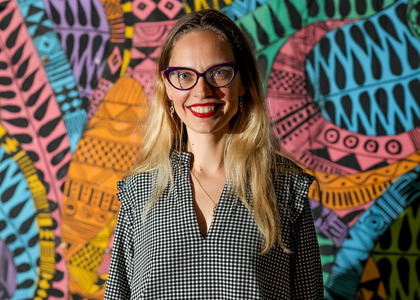 'Maria Tănase. Symphonic - Jazz fusion', at Sala Radio
Monday, 28 October 2019 , ora 10.16

The songs of the unmistakable Maria Tănase, a merge of symphonic music and jazz, in other words "Maria Tănase. Symphonic - Jazz fusion" is what IRINA SÂRBU (voice), alongside the musical conductor SIMONA STRUNGARU and the Orchestra of Camera Radio propose, in a beautiful concert scheduled for Wednesday, 30 October (19:00), at Sala Radio! The evening's special guests are Bucharest Jazz Orchestra and Frații Cazanoi Taraf.
At every new stage appearance, IRINA SÂRBU amazes and delights. She is always appreciated for the freshness of her interpretations and for her improvisational spirit, based on many years of studies dedicated to classical music and then to jazz, and on a burning passion for Romanian folklore. From the standard jazz to ethno-jazz and, more recently, to instrumental scores interpreted with voice (such as Hora Staccato and Hora mărțișorului by Grigoraș Dinicu, The concert for violin and orchestra in A minor by Bach, the first part) the musical course of this singer with a very special vocal range has attracted the attention of many musicians who have wished to collaborate with her on various projects.
The event will be conducted by SIMONA STRUNGARU - pianist, orchestra conductor, orchestra composer and composer of film music - who graduated in 2010 from the Conservatory in Amsterdam. She conducted, among others, the Orchestra and Choir of the Oltenia Philharmonic, alongside the Bălănescu Quartet and Loredana Groza for the Maria Tănase Symphonic concert, or the Sonomania ensemble as part of the International Week of New Music Festival. In 2015 she launched the Simona Strungaru Symphonics orchestra and concept as part of Bucharest White Night, performing for the first time her own composition Symphony I - Gaston, for orchestra and live visuals.
The concerts can be listened to live on all the Radio România Cultural and Radio România Muzical frequencies in the country, and through live streaming on the Internet, on www.radioromaniacultural.ro and www.romania-muzical.ro.
Tickets to the Orchestras' and Radio Choirs' concerts are available on www.bilete.ro, at the offices of the Romanian Post Office, in Inmedio shops marked with bilete.ro, and at the ticket office of Sala Radio.
For other information regarding the Orchestras and Radio Choirs please consult the website www.orchestreradio.ro.

Translated by Andrei Iulia-Teodora, Universitatea București,
Facultatea de Limbi și Literaturi Străine anul I MTTLC