> [Archived] Events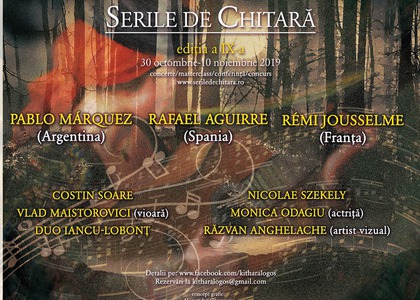 The International Festival 'Guitar Evenings', The Ninth Edition
Monday, 28 October 2019 , ora 11.11

The ninth edition of "Guitar Evenings," a project of the Kitharalogos Cultural Association, brings to Bucharest 18 artists from four different countries in a celebration of the instrument, which includes nine concerts, six masterclasses, a conference, and an online contest.
As it usually happens every year, three of the world's most famous guitarists, Pablo Márquez, Rafael Aguirre, and Rémi Jousselme, will perform in the beautiful Aula of the Central University Library "Carol I." Also, Romanian artists of high value will delight the public in Bucharest with recitals that will combine music, poetry, and visual arts.
From vintage instruments to contemporary music, from famous works to songs performed for the first time ever, the new edition of "Guitar Evenings" celebrates the diversity and versatility of an instrument with an unmistakable voice. The project is co-financed by the Administration of the National Cultural Fund. It welcomes talented young guitarists with 36 places available at the free masterclass courses, which are held at the National University of Music, two galas held at the Șuțu Palace and a unique online competition in Romania ("Bursa Kitharalogos") which will give prizes of over 2000 euros and a conference dedicated to all guitar lovers.
For details, please visit www.facebook.com/kitharalogos or www.seriledechitara.ro. The entrance at the concerts is free and is done based on a reservation. You can make the reservation at kitharalogos@gmail.com. At the concerts from the Șuțu Palace and The "Tinerimea Română" National Art Center, the entrance is free within the limits of the available seats, and at the concert from the National Museum "George Enescu" the entrance costs 6 RON. The tickets are available at the entrance.
The concerts in the Central University Library Aula can be watched live, online, or on enjoytv.ro. They will also be found on the Facebook profile or the YouTube channel of enjoy tv Romania.

Translated by Mangalagiu Mădălina, Universitatea din București
Facultatea de Limbi și Literaturi Străine, MTTLC Anul 1