> [Archived] Events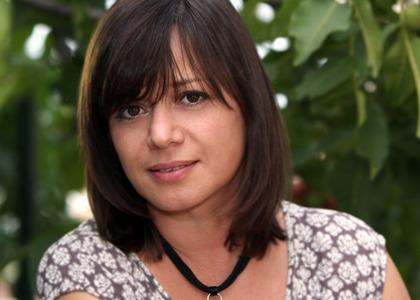 The national tour of recitals from pianist Oxana Corjos
Monday, 28 October 2019 , ora 11.45

Between October 29 and November 12, Pianist Oxana Cojos is hosting a tour in four cities with a spectacular program includingBWV 1004"Chaconne" from Bach's Partita No. 2 in D Minor , four overtures from Claude Debussy- Des pas sur la neige, La serenade interrompue, Puerto delVino and Feux d'artifice- and Serghei Prokofiev's Sonata no. 6.
The recitals will take place in Sibiu at Thalia Hall on October 29, Pitești atPhillarmonic Hall on November 1, Bistrița atSynagogue on November 8 and Bucharest- Romania Athenaeum on November 12.
Pianist Oxana Corjos is one of the leading pianists of her generation, receiving appreciation especially on account of her vast repertory which includes Bach, Mozart, Rachmaninov and Ravel. At the peak of her artistic maturity, Oxana Corjos is still discovering her beginnings in an artless, charming manner. The recital program that Oxana Corjos is offering marks one of the most important moments from the history of piano repertory, being an entirely special mean of communication, based on unravelling the sounds through compelling narratives with a touch of an emotional confession.
In this recital, Oxana Corjos leads us into the universe of fascinating femininity through the eternal paradox of the outstanding force and the indefinable delicacy.
Growing up in a family of musicians, Oxana Corjos acquired her first music notions as a childunder the guidance of Ioana Minei and Ana Piteș. Years after, she was the student of master Dan Grigore at National University of Music in Bucharest. She received many awards at contests held in Rome (1991) and Barcelona (1986). In 1992 she received the Cella Delavrancea Award for her remarkable cultural contribution. She attended various radio and television shows and she made special recordings for the Romanian Radio Broadcasting Company featuring compositions from Bach, Mozart, Beethoven, Mussorgski, Debussy, R. Strauss, Prokofiev etc., some of them also being broadcasted by national radio in Bruxelles. Besides her concert activity, she is also a teacher at the University of Music in Bucharest.
During her career, Oxana Corjos had the opportunity to work with orchestral conductors such as: Cristian Mandeal, Gian Luigi Zampieri, Jan Stulen, Jin Wang, Ilarion Ionescu-Galați, Misha Katz, Petre Sbârcea, Adrian Sunshine, Gheorghe Costin, Emil Simon, Ovidiu Balan, Corneliu Dumbrăveanu, Cem Mansur, Nicolae Moldoveanu etc. In Romania, Oxana Corjos held concerts alongside the most representative orchestras, as well as The National Radio Orchestra, Radio Chamber Orchestra, The Orchestra of George Enescu Philharmonic. Through her successful tours held in Switzerland, Republic of Moldova, Spain, Macedonia and Italy, the pianist received a geat amount of appreciation for her artistic performances, both from the public and the critics.

Translated by Iuliana Popa, Universitatea din București,
Facultatea de Limbi și Literaturi Străine, MTTLC Anul 1