> [Archived] Events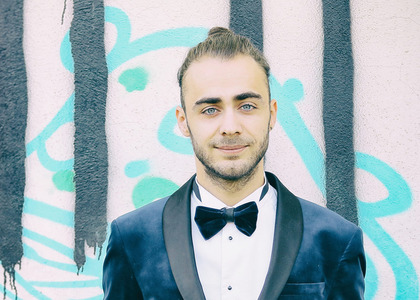 The rebel pianist, Daniel Ciobanu, will be performing three concerts in EUROPALIA
Wednesday, 6 November 2019 , ora 10.01

With a pop idol appearance, a romantic bard sensitivity and an uncommon technical ability, Daniel Ciobanu already has a remarkable career. Described as "sensational"; "diabolical"; "unforgettable" by the musical critics from the whole world, the young Romanian pianist, born in Piatra-Neamt, graduated from The Royal Conservatoire of Scotland and is the prize winner of various prestigious contests.
The piano recitals of the young musician Daniel Ciobanu will be taking place on November 7th, 2019 at St. James Church from London (Great Britain), on November 8th, 2019 at Zuiderstrandtheater from the Hague (Holland) and on November 10th, 2019 in Genappe (Belgium).
The pianist, who describes his music as a "a cocktail of classical music as serious as possible, combined with the sparks and fireworks of the piano repertoire", will be performing in his three concerts works by Olivier Messiaen, Frederic Chopin, Arvo Part, Frederic Rzewski, George Enescu, Sergei Prokofiev, Constantin Silvestri, Modest Musorgski, Sigismund Toduță, Nikolai Kapustin.
"The programme was conceived of two particularly emotionally intense programmes, being very generous works of the composers, as far as the inspiration and the context go. The first part focuses on the inner-spiritual and mystical zone of our existence, a part which we are lead to ignore in favour of materialism by the century we are living in. We will go over a path with references to divinity (Messiaen - Regard du Pere) and to existential questions (Fr.Chopin - Sonata no. 2). I hope I will be able to insist, musically speaking, on a point in which the public becomes really emotionally vulnerable. The second part starts from the collateral damage upon man caused by the agricultural revolution and by industrialization, but it opens the horizon of hope towards the connection with the deity by means of introspection, through Enescu's Carillon Nocturne. We will remember about the textile factory and the slavery found in Rzewski's Cotton Mill Blues and Prokofiev's War Sonata", explained Daniel Ciobanu.
"I am very excited to get this invitation from RCI (Romanian Cultural Institute) to take part in the EUROPALIA project, which this year focuses on the cultural heritage of Romania and be on theimpressive list of this country's ambassadors, along with whom I will appear in all these illustrious artistic centres abroad", mentioned the artist.

Translated by Ioana Ghiță, Universitatea București,
Facultatea de Limbi și Literaturi Străine, MTTLC, anul II