> [Archived] Events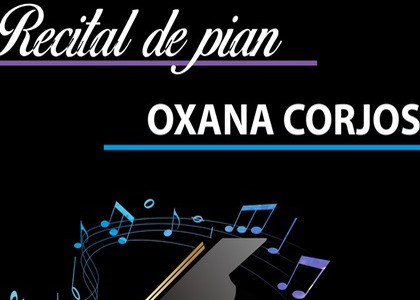 Pianist Oxana Corjos to play the last concert of her National Recital Tour on November 12that the Romanian Athenaeum
Thursday, 14 November 2019 , ora 9.19

From October 29th until November 12th of 2019, pianist Oxana Corjos will tour four cities in Romania - Sibiu, Pitești, Bistrița and Bucharest- with a spectacular program that includes Ciaccona in re minor, BWV 1004 by Bach-Busoni, four preludes by Claude Debussy - Des pas sur la neige, La serenade interrompue, Puerta del Vino and Feux d'artifice- and Sergey Prokofiev's 6thSonata.
The last recital will be performedon November 12thin Bucharest, at the Romanian Athenaeum.
Pianist Oxana Corjos is one of the leading pianists of her generation and is especially appreciated for the vastitude of the repertoire that she takes up whichcovers form Bach and Mozart to Rachmaninov and Ravel. At the height of her artistic maturity, Oxana Corjos still retains some of the charm of an artist who ingenuously discovers her own beginning. The proposed recital program marks one of the most important moments in the history of piano repertoire, as it is the symbol of a completely special type of communication, based on a charming decryption of music in captivating narrative frames, which Oxana Corjos constantly duplicates with the emotion of a confession.
In the proposed recital, Oxana Corjos introduces us into the universe of fascinating femininity, through the eternal paradox of the unusual force and the fragility of an ineffable seducer.
Growing up in a family of musicians, Oxana Corjos acquired her first musical notions in her childhood, having studied with Ioana Minei and Ana Pitiș. She then attended the courses of the BucharestNational University of Music, where she studied with the master Dan Grigore. She has been awarded numerous prizes in competitions organized in Rome (1991) and Barcelona (1986). In 1992 she was awarded the Cella Delavrancea Award for her meritorious activity in the field of culture. She has appeared in numerous radio and television programs and has made special recordings for the Romanian Radio Broadcasting with works by Bach, Mozart, Beethoven, Mussorgski, Debussy, R. Strauss, Prokofiev etc., some of which having been taken over by the Radio Broadcasting in Brussels. In parallel with performing,she teaches at the Bucharest National University of Music.
Over the years, Oxana Corjos has had the opportunity to work with conductors such as: Cristian Mandeal, Gian Luigi Zampieri, Jan Stulen, Jin Wang, Ilarion Ionescu-Galați, Misha Katz, Petre Sbârcea, Adrian Sunshine, Gheorghe Costin, Emil Simon, Ovidiu Balan, Corneliu Dumbrăveanu, Cem Mansur, Nicolae Moldoveanu etc. In Romania, Oxana Corjos has performed in concerts together with the most representative orchestras as well as with the National Radio Orchestra, the Radio Chamber Orchestra, the George Enescu Philharmonic Orchestra. Tours in Switzerland, the Republic of Moldova, Spain, Macedonia and Italy have brought a lot of success to the pianist and the appreciation of the public and of the specialized critics.

Translated by Irina Ștefan, Universitatea București,
Facultatea de Limbi și Literaturi Străine, MTTLC, anul II