> [Archived] Events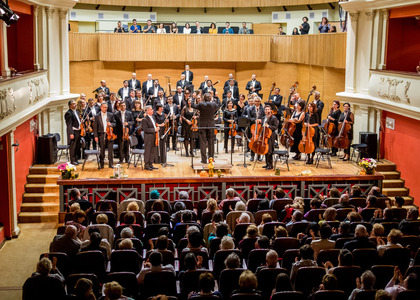 Sibiu Philharmonic - First December Concert at the Romanian Athenaeum
Monday, 25 November 2019 , ora 12.19

We started the Beethovenescu season bravely, Perjovschi helped us to become visible, we hope to delight you with the enthusiasm of each concert. Because you feel close to us, we are sharing yet another surprise.
The Sibiu State Philharmonic Orchestra is invited to the Romanian Athenaeum in Bucharest to attend for the first time the Concert Dedicated to the National Day of Romania, on Sunday, FIRST DECEMBER 2019, 7pm. The Sibiu Philharmonic will be conducted by Cristian LUPEȘ with two spectacular soloists: Sorin Petrescu (piano) and Doru Roman (percussion).
The same concert will be presented on November 30, at Thalia Hall, at 19.00. Because Sibiu is unique and because we are broadcast live throughout the country, on December 1st, the Sibiu Philharmonic will hold the National Day concert simultaneously in two venues: Piața Mare from Sibiu and Ateneul Român (Bucharest).
The most artistic Sibiu First December will debut on November 29 with a unique Romanian art exhibition, in the foyer of the Thalia Hall of the Philharmonic. Until Sunday, December 1, famous paintings which became part of the national heritage will be presented to the public: Grigorescu, Luchian, Amman, Tonitza, etc. They come from private collections, and after the exhibition in Sibiu and the Artmark auction (the organizer of the exhibition) the paintings will go to other private collections. In Sibiu we have the unique opportunity to admire for three days these masterpieces of Romanian plastic art. The star of the exhibition is a work signed by Nicolae GRIGORESCU.
"For my first Sibiu First December I invite you to feel Romania as a country of talented artists, inspirational painters, brave and nonconformist young people. Artmark's friends bring to Sibiu the visual artistic heritage and musicians from all over the country build on the two scenes (Great Square and Ateneu) the representative concert of the National Day of Romania.
We owe this performance to the support provided by the Sibiu public, the quality of the musicians, the Trinitas television, but also the unique cultural openings constantly demonstrated by the Sibiu County Council.
At the Philharmonic we will live together the country we want and we will change the perspective with which we watch and listen to this holiday. Let's celebrate with the responsibility of promises that we will have to fulfill in the future. "Cristian LUPEȘ.
TIME SCHEDULE:
November 29 - December 1: Exhibition Artmark Thalia Hall. ticket entry.
November 30: Thalia Sibiu Hall, 7pm
Extraordinary Concert dedicated to the National Day FIRST December: entry based on invitation
December 1: The Romanian Athenaeum Bucharest, 7pm
Extraordinary concert dedicated to the National Day BEFORE December
December 1st: Piața Mare Sibiu, 7pm
Live broadcast of the Athenaeum concert.
Sibiu State Philharmonic Orchestra
Conductor Cristian Lupeș
Soloists: Sorin Petrescu and Doru Roman
listen:
Liviu Dănceanu: "Concerthymn"
Gabriel Mălăncioiu: "Percutrance"
Petre Elinescu: "Romanian pastoral scene"
Andrei Tănăsescu: "Ciuleandra" (Sorin Petrescu orchestra)
George ENESCU: POEMA ROMÂNĂ

Translated by Oprea Ana Maria Adriana, Universitatea București,
Facultatea de Limbi și Literaturi Străine, MTTLC, anul I